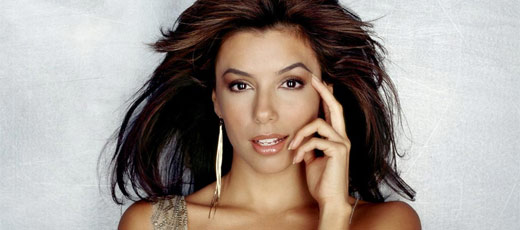 Learn more about a famous Mexican-American actress – Eva Longoria. She became famous for the role of sexy Gabrielle Solis in Desperate Housewives
Eva Jacqueline Longoria is a Mexican-American actress, famous for being one of the most stylish and beautiful women on the planet. Eva Longoria was born on March 15, 1975 in Corpus Christi, Texas. She grew up on a ranch in poor Latin family. The youngest of four sisters, Eva was surprisingly considered the "ugly duckling" of the family due to her darker features.
The Longoria family has resided in Texas since before the United States existed. Research done by Harvard University traced Eva Longoria's ancestry back to Asturias, Spain. The actress' ninth great-grandfather, Lorenzo Suarez de Longoria emigrated to the Viceroyalty of New Spain in 1603, now modern-day Mexico. Eva Longoria's ancestors then moved north toward the US-Mexico border. Her 7th great grandfather received a land grant from Spain on the Rio Grande, where the family remained. Eva Longoria has declared in various interviews that she considers herself to be Mexican and Texan, and, although her parents spoke Spanish to each other, Eva Longoria did not learn Spanish until later in life.
Despite being teased when she was young by her siblings for being ugly, Eva Longoria originally tried to become a fashion model but was rejected due to her height. Meanwhile, Longoria continued her education and received a Bachelor degree in kinesiology. In 1998, Eva gained recognition when she won the title of Miss Corpus Christi, which led her to enter into a talent contest that would eventually get her spotted and signed by a talent scout.
Eva Longoria's was first cast in a minor role in the extremely popular TV series Beverly Hills 90210 followed by another guest appearance in the soap opera General Hospital. The small appearances led Eva to her first big breakthrough when she was cast in a 2 year leading role as the crazy Latin character Isabella Braña Williams in The Young and the Restless. After wards, Longoria scored another leading role as Gloria Duran in another series called Dragnet (2003-2004), which unfortunately only lasted 2 seasons. She would star in two poorly received films (Señorita Justice and The Dead Will Tell) before landing the role that would launch Evan Longoria to stardom.
In 2004, Eva Longoria scored big when she landed the role of sexy Gabrielle Solis is the break-out ABC worldwide hit Desperate Housewives. The role of Gaby Solis has Eva portraying a Latin former runway model turned miserable wife, donning sexy lingerie and having risqué affairs. The role launched her immediately to fame and Eva was received as one of the hottest Hollywood newcomers that year. Desperate Housewives is slated to be on air until 2013, although the show's main characters played by: Teri Hatcher, Felicity Huffman, Marcia Cross and Eva Longoria are only contractually committed through the end of the 2011 season. Since hitting it big as Gaby in Desperate Housewives, Longoria has appeared in several movies such as The Sentinel and Harsh Times.
Besides acting, Eva Longoria lends her image to brands like L'Oréal, Hanes, New York & Co, Magnum Ice-cream, Bebe Sport, Microsoft, Heineken and London Fog. In 2008 and 2009, Eva Longoria opened up restaurants called Beso in West and Las Vegas with business partner Todd English. The actress is also heavily involved in charity work and various foundations. Eva's Heroes is a charity she founded dedicated to disabled children and Eva is also the official spokesperson for PADRES Contra El Cancer (Parents Against Cancer). Eva Longoria's involvement in these and many other causes, such as the ALMA Award s, often focus on the Latin community.
Eva Longoria, the former "ugly duckling" has appeared on nearly every major publication's list of "Most Beautiful People" since achieving fame. Her success has helped her family escape poverty and the actress is dedicated to giving back to the community. The actress has been married twice: to Tyler Christopher (2002-2004) and Tony Parker (2004-2010).