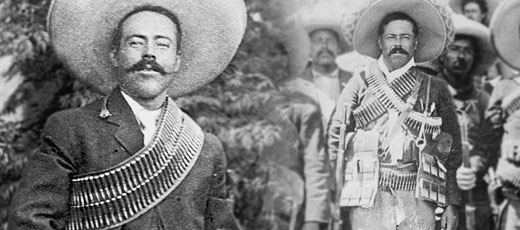 Pancho Villa. Mexicans today remember him as a hugely valuable contributor to the Mexican revolution and his name continues to garner considerable respect.
José Doroteo Arango Arámbula was born on 5th June 1878 in Durango state, Mexico. He is best known as Francisco Villa or Pancho Villa, and is famous for the prominent role he took in the Mexican Revolution.
Pancho Villa was brought up in a poor peasant family on one of the largest haciendas (ranches) in Durango. As the oldest of five children, much of his early life was spent helping his mother raise his siblings, particularly after the death of his father.
Fleeing to the Durango hills at the age of 16 following problems at the hacienda, Doroteo, as he was then known, joined a bandit group and eventually became part of one of the most famous outlaw gangs of the region, headed by Ignacio Parra. There is little record of Villa's life between the ages of 16 and 20, though it is thought that he spent most of his time stealing cattle, robbing shipments of money, and committing crimes against the wealthy. It was at some point during this time that he took the name Francisco Villa, after his grandfather Jesus Villa, in order to evade the law.
By the age of 20, Villa had moved to the north western state of Chihuahua. He worked intermittently as a miner, while continuing to sell stolen cattle and engage in other crimes. Indeed, in 1899, he was wanted by the Porfirio Diaz government not only for theft, but also bank robbery and murder.
It was at this point that Francisco Villa became recognized as somewhat of a modern-day Robin Hood. He became famous among the poor for skillfully evading capture by the rurales (oppressive Mexican police of the time). In fact, his reputation as a bandit proficient in escaping imprisonment caught the attention of a group of revolutionaries who enlisted his help. Villa agreed to lead an army fighting for Francisco Madero who promised change for the poor and working classes. In 1910 Villa and his men came down from the hills, making the transition from bandits to revolutionaries in what was known as the Division del Norte, an army of thousands, including a significant number of Americans.
Though Madero's victory was short-lived, Pancho Villa became even more prominent and was considered something of a folk hero in the USA, with many journalists, photographers and filmmakers avidly following his performance. Allowing such media involvement proved a very effective method of maintaining funds for the revolution. He also generated finances for the army by printing fiat money and forcing people to accept it on a par with Mexican pesos. In addition, he robbed banks, staged train robberies and forced the wealthy to grant loans to the cause.
Villa´s forces were based in Chihuahua, where he ruled over the area like a warlord, ordering executions and terrorizing the population. However, his actions were also celebrated by many, as he divided vast ranches owned by rich hacendados (landowners) and distributed them amongst peasants and the widows and orphans of his fallen soldiers.
Villa´s men and supporters became known as Villistas during the Mexican Revolution from 1910 to around 1920. Despite winning a string of battles in the earlier years of the revolution, between 1911 and 1914, Villa was overpowered in 1915 and 1916 by the combined forces of Carranza and Obregón. This was partly owing to the USA's withdrawal of support.
In 1920, Villa retired from the cause and rested on the large estate he was awarded by the Mexican government. On becoming more involved in the political situation again in 1923, Villa was assassinated on the 20th July, allegedly with the approval of President Obregón, though there are a number of different conspiracy theories. Pancho Villa's dying words are famously reported to have been "Don´t let it end like this. Tell them, I said something".
Although Villa's achievements were not officially recognized until 20 years after his death, Mexicans today remember him as a hugely valuable contributor to the revolution (along with other leading figures such as Emiliano Zapata) and his name continues to garner considerable respect in the country. Indeed, lots of streets and neighborhoods are named in his honor, and he has been portrayed in numerous films, and starred in many as himself between 1912 and 1916. The most recent work documenting Pancho Villa's life is entitled Wild Roses, Tender Roses. It is based on James Carlos Blake's novel The Friends of Pancho Villa.