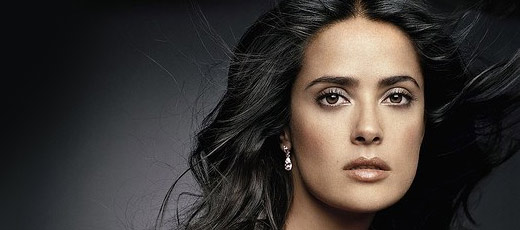 Bringing an edge and elegance to the life of Frida Kahlo, Salma Hayek received excellent reviews. Read on to learn more about the famous Mexican actress!
Salma Hayek is a famous Mexican actress, producer and director known for her exotic sensuality and business talent. Born in Coatzacoalcos, Mexico to a wealthy Catholic family, Salma's family background is a mixture of Lebanese from her father's side and Spanish from her mother's. The Mexican actress spent part of her childhood and teenage years in the USA. For college, Salma Hayek returned to Mexico to study International Relations.
The budding actress soon pushed her studies aside to pursue acting. Salma Hayek's big breakthrough came when she landed a leading role at the age of 23 in Teresa (1989), a popular Mexican soap opera that propelled her to stardom. At the height of her popularity in Mexico, Salma moved to Los Angeles to study acting at the Stella Adler Studio and to perfect her English skills.
By 1993, Salma Hayek began to edge her way into Hollywood with small reoccurring roles on "The Sinbad Show," and a supporting role in Allison Anders' My Crazy Life (Mi Vida Loca), which marked her us feature film debut. In 1994, Hayek starred in the Mexican film Miracle Alley/Midaq Alley, the most award winning movie in the history of Mexican cinema. Her big Hollywood breakthrough came when the famous Mexican actress was cast alongside Antonio Banderas in Robert Rodriguez's film Desperado (1995). The same year she appeared in both Fair Game and Four Rooms, but her most notable role during the period was as a blood-sucking snake-dancer in Quentin Taratino's From Dusk Till Dawn.
Subsequently, despite a long list of acting credentials in feature films such as: Fools Rush In (1997), Breaking Up (1997), the Hunchback (1997), 54 (1998), Wild Wild West (1999),Dogma (1999), Chain of Fools (2000), Traffic (2000), Timecode (2000), Salma Hayek continued to be more known for her exotic looks, curvy figure and savvy business skills than for her acting. Hayek's beauty has been used to represent Revlon and Avon Cosmetics as well as luxurious brand names such as Cartier, Chopard and Lincoln Cars.
Salma Hayek founded her own production company called Ventanarosa in 1999, focused principally on Latin films. Hayek and Ventanarosa's first project was the film adaptation of a Gabriel Garcia Marquez novel called El Coronel No Tiene Quien le Escriba. Next, Hayek starred in and produced the Showtime movie In the Time of Butterflies (2001). Both movies were very well received. The following year, Salma Hayek co-produced and starred in the movie Frida, about artist Frida Kahlo and husband Diego Rivera. This critically acclaimed movie permitted the Mexican actress to finally transcend typecasting and earned her an Academy Award Nomination for Best Actress. In 2006, Hayek became the executive producer of Ugly Betty, an enormously successful primetime show based on a Mexican series which she helped to adapt to US television. Salma Hayek's production company continues to produce successful projects and has since signed deals with MGM and ABC.
Since becoming a successful producer and director, Salma'a Hayek's acting career since starring in in Frida has been hit-or-miss with appearances in a long list of films such as Spy Kids 3-D: Game over (2003), Bandidas (2006, costarring Penelope Cruz), Lonely Hearts (2007), Grown Ups (2010), Puss in Boots (2011 voice over alongside Antonio Banderas) and many others.
On a more personal note, Salma Hayek is widely recognized for her humanitarian work against discrimination and violence against women. The Mexican actress, producer and director was naturalized as a United States citizen in 1995, where she gave birth to a daughter with François-Henri Pinault in 2007. The couple wed in 2009.