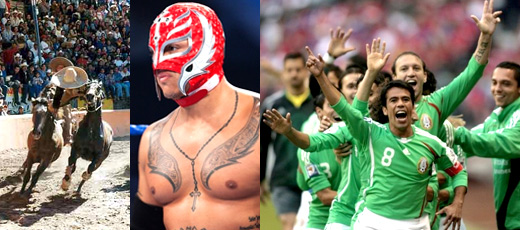 Sports in Mexico. From surfing in Mexico to Basque Pelota, sport has always played a big role in Mexican society.
There is a vast range of sports played throughout the country, many of which have huge popular followings. Mexico is the only Latin American nation to have hosted a Summer Olympic Games and also hosted 2011 Pan American Games; as such the sporting infrastructure is relatively well developed, with a range of stadiums and arenas.
Without doubt the most popular sport in Mexico is football. It is a source of great pride for Mexican and something many are very passionate about. Mexican Football comprises of four divisions, with 18 teams competing in the 'Primera División'. Stadium audiences can range from a few thousand to 70,000. The Mexican national team has competed in many of the Football World Cups, and Mexico has also played host to two of the tournaments.
Other sports in Mexico that are popular include Boxing- Mexico has produced the most world champions boxers in the last 30 years than any other nation- and wrestling, which has a distinctive dramatic characteristic, famed for its costumes and known as 'Lucha Libre'.
The influence from the US has meant that sports such as baseball, basketball and golf are widely watched and participated in. However, despite the impact of American sports, more traditional Mexican sports such as Charreria and Bullfighting are still popular, although they are not without their controversies.
Wherever your sporting interests lie, this section will be able to provide you with detailed information about the variety of sports in Mexico.