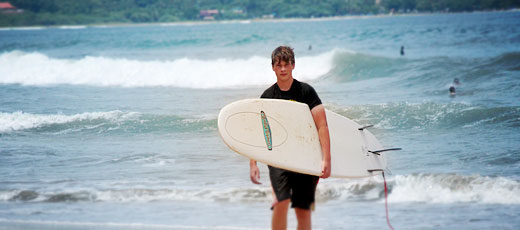 Surfing in Mexico. Surfing is a great activity while visiting Mexico, as it is one of the world´s best locations, rivaling California and Hawaii.
Mexico has thousands of miles of coastline, meaning that there are many great beaches for surfing whether you are a beginner or expert. The Pacific coast is considered the best area for surfing in Mexico and boasts some of the world´s most famous surfing locations where annual competitions are held. Some of the advantages of surfing in Mexico include having a good weather all year round, a variety of wave sizes and relatively uncrowded beaches. It is, however, essential to do some research before going on a surfing vacation in Mexico, as there are also things that you need to be aware of. Some surf areas of Mexico are considered unsafe for foreigners at this time due to problems ranging from petty crime to gang wars. Don't let this uncertainty stop you though. Just be sure to follow some handy tips like informing yourself as much as possible regarding your destination, travel with a group, and try not to wander off the beaten path too much. At some beaches, the danger is not criminal in nature; instead at some beaches like Pascuales in Colima, the waves are dangerously big so choose a beach that's suits your level!
The area of Baja California, the long peninsula that extends southwards from California, is a very popular area and is easily accessible for people in the southwestern USA, attracting many tourists and surfers all year round. Like the rest of the Pacific coast of Mexico, it gets great waves as there is so much ocean to cross giving the waves plenty of space to gather momentum and height. One of the best things about this area is that its beaches are usually not very crowded, especially on weekends, despite being regarded as some of the world´s best for surfing. Particularly famous is the small island Isla Todos Santos, just off the coast of Northern Baja. It can be accessed by boat from Ensenada, another great surfing spot and is known to have some of the world´s biggest and most dangerous waves, meaning this is only for expert surfers. If you´re looking for waves that are more suitable for beginners, Cabo San Lucas, situated right at the southern point of the peninsula, generally has more gently waves. Check out the beaches El Medano or Costa Azul in San Jose del Cabo if you´re an inexperienced surfer. These areas also have many other attractions, including a variety of other water sports if you don´t want to dedicate your vacation to surfing.
Moving on to mainland Mexico and there are yet more good surfing destinations further south. Puerto Escondido, in Oaxaca, is one of the best known for its huge waves and international competitions that are held there in August and November. Here there are two main beaches: Playa Principal and Playa Zicatela. Playa Zicatela has some of the biggest waves in the world and has been nicknamed the ´Mexican Pipeline´ for its high waves that form tubes and it is here were championship tournaments take place like the ESPN X Games or the MexPipe Challenge. The strong waves from this particular beach have caused serious injury to even professional surfers, so it is no place for beginners. Also keep in mind that this beach isn't a beach for swimmers since there is always a dangerous undertoe. However, there are other beaches in Puerto Escondido like Playa Marinero that have smaller waves and surf schools for beginners. This area also has good nightlife and a cosmopolitan atmosphere, meaning you´ll have plenty to do in the evenings after a long day riding the waves. Despite the name Puerto Escondido (´Hidden Port´), the area is actually quite easy to access. There is an airport near the city and there are plenty of buses going from the downtown to the most popular beaches.
The coastal town of Mazatlán is another popular surf destination on the Pacific coast and has plenty to do for even the most active tourists. Along with good waves, Mazatlán also offers many other sports, a year round good climate, a historical town and good nightlife, making it ideal for a family or group vacation. Its most popular beach is Playa Bruja, which boasts great waves, plus there are waves of all sizes suitable for any surf level here. Like most of the other surfing destinations in Mexico, there is an abundance of surf schools and rental shops, so you needn´t worry about bringing your own equipment.
These are just two examples of the wide variety of surf spots in Mexico. There are plenty more places to explore that will satisfy even the most demanding surfer like: Pascuales, Colima; Sayulita, Nayarit; Troncones, Guerrero; Bahias de Huatulco, Oaxaca; Punta de Mita, Nayarit and San Blas, Nayarit.
Surfing is a great activity to try out while visiting Mexico, as it is one of the world´s best locations, rivaling California and Hawaii. However, caution must always be taken: it is vital to check surfing forecasts before every outing to ensure you won´t be surfing in violent seas or shark-infested waters. Take precautions and you´re guaranteed to have a fun and exciting surfing vacation!