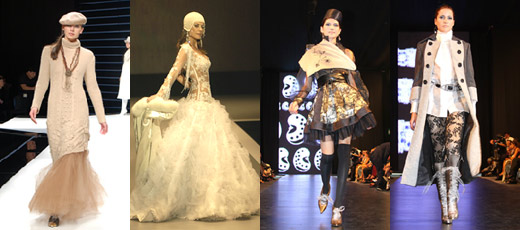 Norka Peralta is one of the most celebrated and successful Peruvian fashion designers ever. Lern more about her and her creations.
Norka Peralta is one of the most celebrated and successful Peruvian fashion designers ever. With more than 30 years of experience running her own fashion business, she is a leader in haute couture fashion in Peru, and has won many awards for her designs, as well as showing her clothes at a range of international events and runways.
Peralta was always destined to design; her mother was a tailor and accomplished dressmaker and ran her own sewing school for over 50 years. As such, Peralta grew up surrounded by fabric, in an incredibly creative environment, learning how to sew, embroider and tailor from a young age. Her mother inspired her enthusiasm for fashion and it was from her that Norka Peralta acquired all the skills required to create clothing. As a child, Peralta would design her own clothes and her friends began complimenting her on how nice she looked. They then started requesting that the future Peruvian fashion designer make them some garments as well. It was from these requests that the idea sprung to use her design skills to create a business, and since then the Peruvian designer has never stopped.
Peralta has now been running her own company for over 30 years and has gained respect not only as a talented designer, but also as a driven businesswoman. The knowledge she inherited from her mother formed an incredible basis for her business empire that has grown from strength to strength in the past decades. She has, without doubt, earned her position as one of the top Peruvian designers.
Peralta's unique and flamboyant clothes have made her really stand out in the world of Peru fashion designers. Norka's focuses primarily on designing eveningwear, formal gowns and luxurious wedding dresses. Her design emphasis lies on the beautiful and delicate construction of her pieces; with her trademark style being the intricate embroidery incorporated throughout the pieces. Often her clothes are elaborated with colorful gems and other embellished details.
Her trajectory of work has received great critical acclaim, winning her numerous awards, including Gente magazine's prestigious 'Designer of the Year' award which she has won a staggering 6 years in a row. Peralta's designs have been worn by models from Peru to France, and have graced the catwalks of huge fashion events in the USA and the most important in the Spanish speaking world: Cibeles Fashion Week in Madrid.
Norka Peralta is a very active fashion designer appearing in many industry events, parties and festivals.  She is also a keen advocate for the promotion of haute couture and developing student's talents. Indeed, in 1998 once she had created a stable and thriving business, Peralta decided she wanted to do as her mother had done: help young, aspiring designers. It was from this desire to teach and train that the Center of Higher Studies of Fashion (CEAM) came to be. CEAM is an educational institution, founded and developed by Peralta herself, which is dedicated to the teaching of fashion students and aids not only in the development of young design talent, but also in teaching students to be business-minded by analyzing market trends and technological resources. The institution has won numerous awards for its innovative teaching methods and successful alumni with great connections across the globe including to the European Fashion Institute in Italy and the Arts of Fashion Foundation in California.