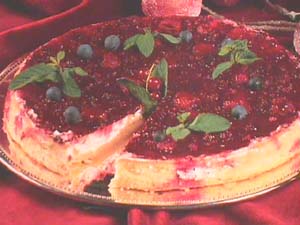 INGREDIENTS
200g raspberry jam
500ml single cream
150g sugar
12g gelatine
3x 250g pots of fresh cheese
For the base:
1 egg
15g sugar
15g butter
250g flour
METHOD
Make dough with the ingredients for the base. Stretch the dough so that it fits in a mould, then put it in the oven at 170º for around 10 minutes. When it is done, leave it to cool and put it to one side.
Put the cream in a pan and heat it. Add 150g sugar and the gelatine and dissolve it. Then pass it through a colander into another pan. Add the cheese to this pan, and then use a whisk to mix it all together. Next, add it all to the base and leave it to cool.
Once it is cool spread the raspberry jam on top and decorate it with some blueberries and mint leaves.
TIME
1 hour