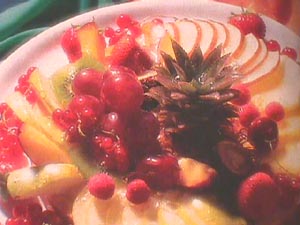 INGREDIENTS
250g flour
125g butter
20g butter to grease the tin
2 soup spoons sugar
1 egg
½ grated lemon rind
Flour to dust the dough
Pinch of salt
For the cream:
125 single cream
200g pastry cream or custard
Fruits: kiwi, mango, orange, raspberry etc.
METHOD
A ready-made frozen tart base can also be used, to make the process quicker. If the dough is frozen, allow it to defrost, and then stretch it with a rolling pin over a cake tin. Score it with a fork, without breaking the pastry, and put it in the oven until it turns golden brown. If not, prepare the dough for the tart yourself. Put the sugar and salt in a bowl. Add the egg, and beat it until it all mixes together. Sieve the flour into another bowl, so that it forms a heap. Make a little hole in it and add the previous mixture. Soften the butter, cut it into pieces, and add it on top of the flour. Mix it in quickly with your fingertips, without kneading so much that it breaks easily. Grease a tin with 20g of butter, roll out the dough with a rolling pin. Lay it in the tin and trim the edges. Score the bottom with a fork and put it in the oven on a medium heat. Leave it until it turns golden brown. Whip the cream and put it in the base, covering the bottom of it. Add the mixed fruits and arrange them nicely. Cover them with a little jam previously heated with some water, or a little syrup. Serve immediately, or if you have to wait, place the tart in the fridge.
TIME
1 hour and 15 minutes