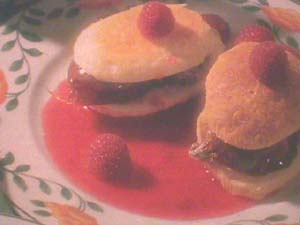 INGREDIENTS
200g puff pastry dough
24 figs
300g sugar
Fresh mint leaves
For the sauce:
200g raspberries
100g icing sugar
Juice of ½ lemon
METHOD
Heat the oven to 180º - 200º. Leave the puff pastry dough to defrost. Place it in an oven dish (which should have previously been greased with some water). Score it so that it doesn´t sink and leave it in the oven until it turns golden brown. Cut it into small circles using a wine glass as the measurement, so that they are about 8cm wide. Separate them so that you have 12 circles, and dust them with icing sugar. Put them back in the oven at 250º so that the sugar caramelizes, but take them out as soon as they begin to do so, so that the caramel doesn´t burn the pastry.
Cut the figs in half. Put 150g sugar with a soup spoon of water in a pan and heat it until it forms a clear caramel, the submerge both halves of the figs in it so they are completely covered in caramel.
Prepare the sauce by mixing the raspberries, the icing sugar and lemon juice in a blender (if it is too thick, add a little water). In the centre of each plate put 4 fig halves, and then cover with one of the pastry circles. Then add more figs and a final pastry circle on top. Sprinkle the chopped fresh mint over them, and add the sauce to one side so that it doesn´t soak the pastry.
TIME
1 hour