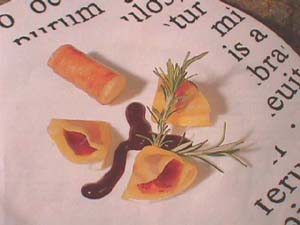 INGREDIENTS
2 mangoes
For the fresh cheese mousse
125g cream
125g fresh cheese
For the honey jelly
1 sheet of gelatine
Mango sorbet
Blueberry sauce
Lots of water
METHOD
Peel and cut the mangoes long ways with an electric cutter, making sure that you get very thin slices.
Make the jelly by reducing the honey until it caramelizes and adding water until you have 500ml of liquid, add the gelatin and let it cool.
Make the little parcels by putting the fresh cheese mousse inside and the caramelized honey jelly on top.
After put 5 parcels on a plate with the blueberry sauce and on top a piece of caramelized mango filled with mango sorbet.
TIME
30 minutes