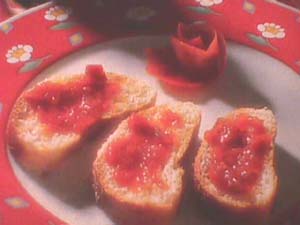 INGREDIENTS
500g tomatoes
1500g icing sugar
2 lemons
1 stick of vanilla
METHOD
Peel the tomatoes and dice them. Cut the lemons into very thin slices. Take out the pips. Layer the sugar, tomato and lemon slices in a large terrine, and finish with a layer of sugar and allow it to soak for 24 hours.
The next day cook it for 30 minutes on a medium heat. Then turn the heat up a bit so that it speeds up the evaporation, stirring it frequently with a slotted spoon.
Then turn the heat down and leave it to cook for another 10 minutes. When the jam is thick enough, put it in a sterilized glass jar and cover.
TIME
1 hour + 24 hours to marinate