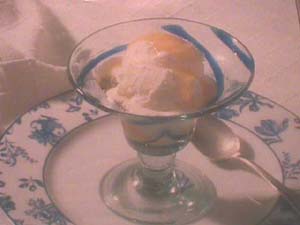 INGREDIENTS
3 eggs
2 lemons
150gr of sugar
300gr of natural yoghurt
150gr of sugar
150gr of evaporated milk
For the sauce:
3 tablespoons of peach puré or peaches in pulp
2 large spoonfuls of sugar
A glass and half of water
2 spoonfuls of potato flour
METHOD
Start by making the ice-cream by separating the egg whites and yolks and mix the egg yolks with the sugar until you get a whitish mixture. Press the lemons, and mix the juice obtained with the yoghurt and then the egg yolk mixture and put it into an ice cream maker or the freezer until the mixture thickens and starts to set.
After that stage, mix in the egg whites with, after whisking them to a firm peak. Then put it back into the freezer again.
Then start with the sauce putting the water, the sugar, and the puréed peach in a pan on a medium flame. Stir with a wooden spoon for around 10 to 12 minutes. Separately, put the the potato flour in a cup and mix with a little cold water. Add it to the pan and keep stirring for 5 minutes. Serve the sauce accompanied with the ice cream.
TIME
2 hours