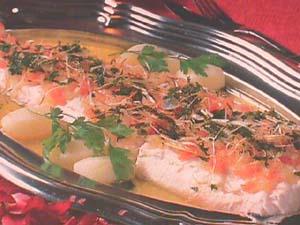 INGREDIENTS
4 x 180g hake fillets
½ chopped onion
2 peeled tomatoes cut into strips with the seeds removed
A bunch of parsley leaves
3 fresh spring onions
1 bowl of beetroot
Olive oil
Jerez vinegar
METHOD
Add the chopped onion, tomato, vinegar and olive oil to a bowl, mix well and salt to taste.
Put the hake in an oven dish, sprinkling salt and a little oil on both sides. Put it in the oven at 190º for around 6 minutes. Once it is done, take it out and keep it to one side.
Wash the vegetables and julienne them, apart from the beetroot which should be cut into thin strips.
Heat a large quantity of olive oil, and when it is hot fry the vegetables in it one by one. When they are done, drain the oil and sprinkle salt on them. Put the hake in the middle of the serving dish and pour the hot vinaigrette on top. Put the vegetables on top of the hake, or serve them to each person´s taste.
TIME
1 hour 30 minutes