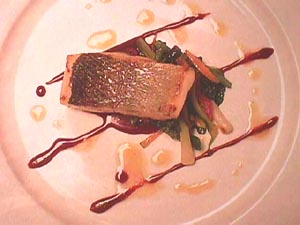 INGREDIENTS
4 sea bass fillets
400g spinach
4 onions
4 garlic cloves
2 courgettes
2 tomatoes
Fennel
Thyme
Olive oil
White vermouth
Salt
For the sauce:
1 onion
1 shallot
Sugar
Butter
1 bottle of Grenache wine
Salt and pepper
METHOD
eep the sea bass fillets to one side. Wash the spinach, keeping the tenderest stems. Cut the onions and garlic and lightly fry them in a little olive oil. Julienne the courgette and keep it to one side also. Cut the tomato into thin segments and chill.
To make the sauce: cut the onion into thin strips and lightly fry it with the shallot, salt, sugar and butter. Add the bottle of Grenache and evaporate a third of it. Drain it and keep it to one side.
Sauté the courgette with oil in a non-stick pan and add the tender spinach stems, and then sauté again. Add the fried garlic and onions, the chilled tomato and mix it well, seasoning it with the fennel and the thyme. Put it all in an oven dish with the sea bass fillets, which should be scored on each side, sprinkle it with the white vermouth and finish it in the oven at 180 º for 3 minutes. Serve with the Grenache sauce without covering the whole thing and a drizzle of the cooking juice.