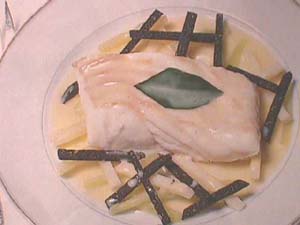 INGREDIENTS
1 turbot weighing between 1.6 -2kg
½ celery-root
1 celery stick
60g truffle cut into julienne
100g butter
4 laurel leaves
100ml fish stock
100ml Noilly Prat vermouth
Salt and pepper
METHOD
Ask the fishmonger to remove the skin from the turbot, and take out the fillets, cutting them into 4 equal portions.
Peel and wash the two celeries, cutting them into small sticks that are 4cm long and 3mm wide. Bleach the celery stalk sticks in hot salted water for 30 seconds, cool them in cold water, drain them well and then mix them with the celery root.
Grease the bottom of a saucepan with a lot of butter. Add the celery sticks, and put the turbot fillets on top. Sprinkle with salt and pepper and place a laurel leaf and knob of butter on top of each fillet. Soak them with the fish stock and Noilly Prat until the pan is half full. Bring it to the boil and leave it on a high heat for 5 minutes, then cover the pan and heat for a further 6 minutes. This should allow the different scents to blend together nicely. Take the lid off the pan and remove the turbot fillets, placing them on a hot plate. Take out the celery sticks and drain them. Transfer the cooking juices into a smaller pan, and lower the heat, then add 60g of butter whilst stirring constantly.
To serve: place the celery sticks on the plate, and then put the turbot fillets on top, and cover with the hot sauce. Sprinkle the fresh raw truffle pieces around the edge of the plate.
TIME
45 minutes