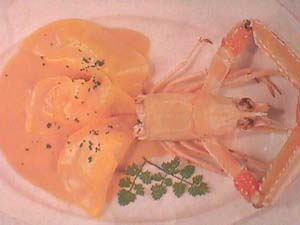 INGREDIENTS
500g fresh crayfish
Fresh egg pasta
1 spoonful fresh black truffle
Oil and butter
To make approx. 1litre of foie gras sauce:
1litre chicken stock
1litre fresh cream
200ml port
100ml cognac
250g foie gras
3 shallots
10g crushed black pepper
Salt or a chicken stock cube
METHOD
To make the foie gras sauce: put the cognac and port in a large bowl. Clean the shallots but don´t peel them, cut them into 2 pieces and lightly fry them in a non-stick pan with a little oil. Add them to the alcohol and heat until half the liquid evaporates. Add the chicken stock to this pan, along with the black pepper, the chicken stick cube or salt and bring it to the boil again. Add the cream, and still on a high heat, evaporate it all, taking care that the sauce does not overflow. After reducing the mixture to ½ litre, take it off the heat and strain it through a colander. Then cut the foie gras into pieces and mix it into the sauce using a whisk. Strain it through a colander again. Leave it to cool before putting the sauce in the fridge in a glass container with an airtight lid. The sauce can be left in the fridge for up to a week.
To make the ravioli: remove the shells from the crayfish and quickly fry them in a non-stick pan with oil and butter, adding salt and pepper to taste. Drain them, and leave them to cool on a plate. Meanwhile, make some thin discs with the pasta and put a crayfish in the middle of each one. Close the ravioli by sticking the edges together with a little beaten egg white. Heat a pan of salted water and bring it to the boil, cook the ravioli in it for a few minutes on a low boil.
To serve: separate the ravioli and place them on warmed plates, covering them in the sauce which should also be served hot. Be careful when re-heating the sauce as if cooked on too high a heat it will curdle. Sprinkle on top some of the chopped truffle and serve immediately. You can use a previously cooked crayfish head as a garnish if you wish.
TIME
2 hours