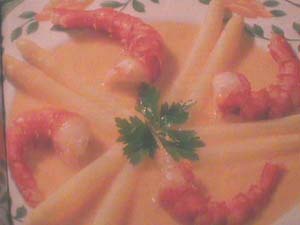 INGREDIENTS
24 red shrimps
24 asparagus stems
For the sauce:
The head and shells of the red shrimps
1 carrot (chopped into small pieces)
½ onion (sliced)
2 tarragon sticks
1 glass white wine
Posy of herbs (thyme, laurel and parsley)
2 soup spoons oil
1litre cream
Salt and pepper
METHOD
Peel the asparagus from the bud to the bottom, cut them to the same length, and then rinse them in cold water. Fill a deep saucepan with water and salt, and when it begins to boil add the asparagus, so that all the buds are at the top. Put a lid on it and bring it back to the boil. Cook them for 15 minutes (or longer if they are quite big). Take them off the heat but leave them in the water. Boil another pan of salted water and add the red shrimps to it, leaving them to cook for 3 minutes. Take them out of the water immediately.
Remove the heads and the shells and crush them in a mortar. Heat some oil in a frying pan and lightly fry them for 3-4 minutes. Add the onion slices and the carrot pieces and fry for a further 3 minutes. Add the wine and leave it to reduce by half. Add the cream, the herbs and the tarragon and leave it to cook on a low flame for 30 minutes. Pass the sauce through a food mill. If it is still thin, return it to the heat so it reduces (you can ass 40g butter and whisk it).
Season it with salt and pepper. Heat the shrimps a little in the sauce. Lay the asparagus and shrimps alternately on a serving dish and accompany them with the sauce. Serve warm.
TIME
45 minutes