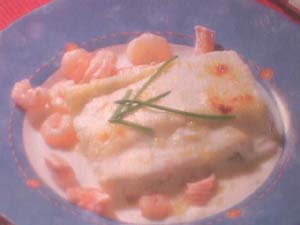 INGREDIENTS
1 packet cannelloni
Salt pepper and nutmeg
For the béchamel:
200g onion
150g butter
1 carrot
100g salmon
1 litre milk
50g flour
For the filling:
250g peeled prawns
250g salmon
100ml oil
30g cornflour
½ onion
½ carrot
180g single cream
METHOD
Preparation: cook the shells of the peeled prawns in salted water. Make the filling by frying the onion and the carrot which should be cut into small pieces. Cut the salmon into little pieces and add it along with the prawns. Lightly fry it all and add the cornflour. Add the single cream, the nutmeg and salt and pepper to taste. Leave it to cook for 10 minutes.
Fill the ready cooked cannelloni.
Make the béchamel by lightly frying the onion for 6 minutes (or until it goes transparent), add the grated carrot and the chopped salmon and leave to fry for a further 3 minutes. Add the flour, the milk (very slowly) and the stock from the prawns which should already have been collected. Leave it to cook whilst stirring constantly for 15minutes, until it begins to thicken. Cover the cannelloni with the béchamel. Sprinkle it with grated parmesan and put it under the grill to gratiné.
TIME
50 minutes