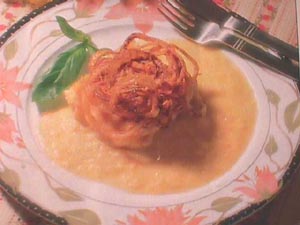 INGREDIENTS
4x 180g hake fillets
50g butter
2 soup spoons oil
3 onions
100g flour
500ml beer
Lots of oil for frying
1 soup spoons beef stock
Salt and pepper
METHOD
Peel and cut one of the onions into thin strips. Put 20g butter on to melt in a pan, and use it to lightly fry the onion until it begins to colour, pour on the beer and allow it to cook on a low heat making sure that the beer doesn´t boil. Add the beef stock and the rest of the butter which should be cut into pieces; salt and pepper it and then put it to one side.
Peel and cut the other two onions into strips, rub some flour into them and fry them in some hot oil. Keep them hot. Grease the hake fillets with oil and then griddle them, leaving them for 3 to 5 minutes on each side, depending on how you like your fish to be done.
Serve the fillets with a heap of onions on top and accompanied by the sauce. Serve hot.
TIME
1 hour