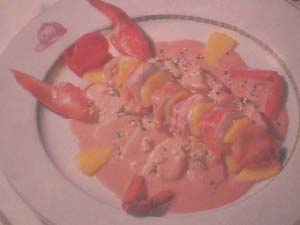 INGREDIENTS
600g cleaned lobster
1 lettuce
1 banana
1 pear
1 apple
2 slices of pineapple
1 boiled egg
Chopped parsley
For the Rose-Marie sauce:
Mayonnaise
Tomato ketchup
Sugar
Orange juice
METHOD
Cook the lobster with thyme, laurel, salt and a little vinegar. Rinse it and cut it into pieces.
Cut the lettuce in julienne, peel the pear and apple and slice them into thin strips. Dice the pineapple slice, and cut the banana into small pieces. Put them all into a large salad bowl and cover them completely in the Rose-Marie sauce.
Distribute the lettuce and fruit between the four plates, putting the lobster on top and covering with more Rose-Marie sauce. Finally sprinkle the boiled egg and the parsley on top, which should be finely chopped.