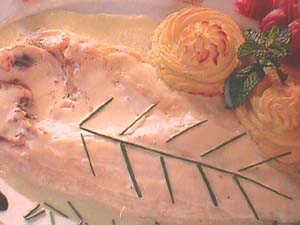 INGREDIENTS
1.4kg bream
1 leek
1 glass white wine
1 glass brandy
300ml single cream
butter
10 cm³ fish stock
Salt, white pepper
Mint
METHOD
Remove the scales and spikes from the bream. Season it and put it in a souté (deep thick saucepan) with some butter. Turn the bream over and add a dash of white wine and a dash of cognac, and the salt and pepper. Leave it on the heat whilst the alcohol heats.
Once the alcohol is extremely hot add the fish stock. Then add the single cream and some mint leaves to enhance the aroma.
Cover it and leave it to cook on a low flame for 4 minutes.
TIME
45 minutes