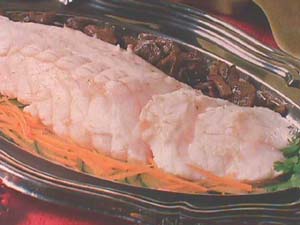 INGREDIENTS
800g clean monkfish fillets
150g onion
150g green pepper
150g red pepper
12 slices bacon
1 garlic clove
1 chilli pepper
Olive oil
Large glass fish stock
METHOD
Clean and chop up all of the vegetables. Add a little olive oil and the chopped garlic clove to a frying pan and lightly brown. Next add the red peppers, green peppers, onion and chilli pepper. Lightly fry them and add the fish stock. Leave it to reduce. Once it has done so, blend it and then strain it through a conical strainer. Then season it to taste with salt and pepper and if necessary thicken it a little with some potato starch.
Salt and pepper the monkfish fillet and wrap it in the bacon slices, then tie it up with some thread. Put a little oil in a frying pan and gently fry it until it turns golden brown, then put it in the oven for roughly 5 minutes. When it is done cut it into 8 pieces and place it on a serving dish or individual plates and cover with the heated sauce.
To garnish: Boiled potatoes and leeks en julienne.
TIME
1 hour and 15 minutes