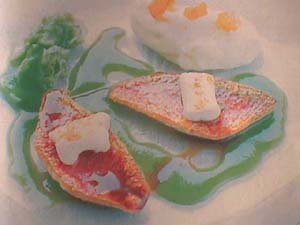 INGREDIENTS
8 x 20g red mullet
200g potatoes
50ml Jabugo oil
50ml cream
100g marrow
1 small cabbage
100ml Ratafia liqueu
METHOD
Fillet the red mullet and remove the bones with tweezers.
Peel the potatoes, boil them and then mash them, adding the cream and the Jabugo liqueur.
Brown the red mullet in a pan with a spoonful of olive oil.
Place the red mullet on a plate, then the marrow which should have been roasted on the grill, the cabbage "au julienne" and a spoonful of mash potato.
TIME
40 minutes