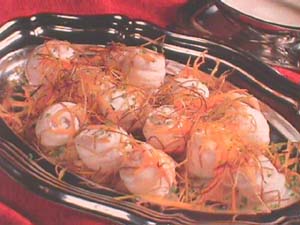 INGREDIENTS
12 rolled sole fillets held together with a toothpick
1 glass of cava
1 glass single cream
1 spoon butter
½ glass fish stock
½ washed leek, cut "au julienne" and fried
1 cooked carrot, cut "au julienne"
Bunch chopped spring onions
METHOD
Grease a pan with butter. Add the salted rolled sole fillets, the cava and the fish stock, and cook for around 7 minutes.
Once they are cooked, take out the fillets and remove the toothpicks. Then add the cram to the pan and allow it to cook until it thickens, stirring it constantly with a whisk and salting to taste.
Put the sole fillets on serving dishes, add the sauce on top and decorate with the fried leek, cooked carrot, and spring onion.
TIME
30 minutes