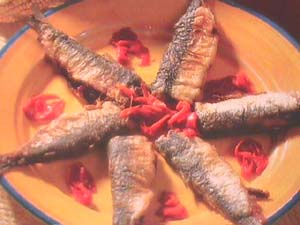 INGREDIENTS
1.5kg large sardines
500g peppers
100g butter
2 spoonfuls grated bread
4 spoonfuls olive oil
40g sliced butter
Water and salt
METHOD
Wash the peppers, remove the seeds and the white parts, and then chop them up. Put them in a pan with the 100g of butter. Mix them well and leave them on the heat.
Remove the bones from the sardines. Wash and dry them. Lightly salt them. Put a bit of pepper in the middle of each sardine and close them well.
Put the 4 spoonfuls of oil in an oven-proof dish so that they cover all of it. Place the sardines one on top of the other. Sprinkle with the grated bread and add the slices of butter. Put them in a pre-heated oven on a medium heat for 15 minutes. Serve immediately.
TIME
35 minutes