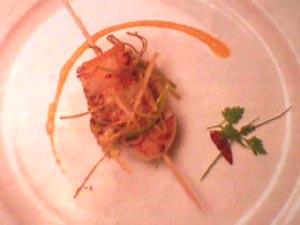 INGREDIENTS
12 scallops
2 peaches
For the pickle:
2 spoons balsamic vinegar
2 spoons olive oil
2 chillies
1 pinch of pepper
1 teaspoon of sugar
For the fondant:
1kg spring onions
4 eggs
200ml single cream
10g cornflour
Nutmeg
Salt and pepper
METHOD
Peel the melons and cut them into quarters, heat them in some salted water. Drain them and then cook them for just one more minute in the pickle that has been prepared with the ingredients listed above. Allow it to marinate for at least 24 hours. Cut the pieces of melon so that they are the same thickness as the scallops and then crush it finely with the marinade and keep it to one side.
Separate the white parts of the spring onions from the green. Cut the white parts finely, salt them, and then steam them for 12 minutes. Cut the green parts finely as well, cook them in salted water for three minutes, and then drain and dry them. Mix the eggs with the single cream, the chopped onions (both green and white parts) and the cornflour. Season with salt, pepper and a little nutmeg. Cook in a bain-marie (a water bath) in the oven at 180ºC for 30 minutes, let it cool down and put it to one side.

To serve: Cut a slice of the fresh onion terrine for each person and brown it gently in a non-stick pan with a dash of oil. Place it in the centre of the plate. Place the brochettes on top, alternating between scallop and peach which should have been griddled, then drizzle the juice of the marinade.