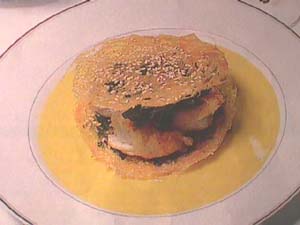 INGREDIENTS
3 king prawns per person
250g spinach
200ml single cream
2 eggs
50g flour
80g butter
Soup spoon of curry powder
100ml oil
30g sesame seeds
Salt
Icing sugar
METHOD
Peel the tails off the king prawns and put them in the fridge. Rinse and dry the spinach.
To make the batter for the puffs: mix the flour with the whites of the eggs, add a pinch of salt and icing sugar. Melt 50g of butter and add it also. Leave it to get cool. Mix well. Melt a knob of butter in a pan, add the curry powder and leave it to cook on a low heat for just 1 minute, then add the single cream and bring it to the boil. Cook for 10 minutes on a low heat, add salt to taste and pass it through a conical strainer. Keep it hot.
Heat the oven to 210 ºC and grease an oven tray. Make 8 circles of roughly 8cm diameter with the dough and sprinkle the sesame seeds on them. Put them in the oven and take them out when they are golden brown.
Salt the king prawn tails and sprinkle them with curry powder. Fry them on a high heat in the olive oil for a minute on each side. Remove the excess with kitchen roll.
Melt another knob of butter in a pan on a high heat until it turns a hazelnut colour. Add the spinach leaves and mix well. Cook them for just 2 minutes so that they stay green and crunchy.
On each plate put a bed of spinach with one of the puffs on top. Then put the king prawn tails, cover them with a bit of spinach, and then place the other puff on the very top. Cover the plate with the curry sauce.