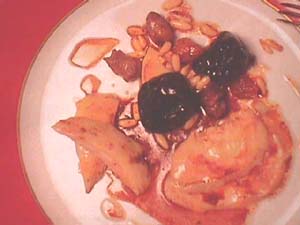 INGREDIENTS
4kg capon (chicken)
750g prunes
100g dried peach
2 golden apples
1 black truffle
250g pine nuts
250g chipolatas
250g lean pork
2 glasses mellow red wine
Pork fat
Cinnamon and walnut
Salt and pepper
METHOD
Carefully clean the chicken and via the back, remove the bones from the carcass, leaving bones in only the wings and the feet, which will make it easier to carve the bird once it is on the table.
To prepare the filling, brown the lean pork and chipolatas together in a saucepan, add one glass of the wine, reduce it and then take it off the heat; add the prunes and the dried peaches (which should have been cut into small pieces), the apples (in segments), the black truffle, the pine nuts and season with salt pepper, a little cinnamon and the crushed walnut. Fill the chicken with this stuffing, and then sow it back up so that it returns to its original shape.
To cook the chicken, smother it with the pork fat and place it in the middle of the oven for 20minutes at 180 º, then add the other glass of wine and 2 spoons of hot water, turn the chicken round, lower the oven temperature to 140 º, and then cook for another 2 hours; check it every half an hour, dowse it with its juices and turn it round so that it browns evenly.
When it is cooked, present it as a whole, which can then be carved and shared out easily, serve the meat with its filling and on each plate pour some of the cooking juices which have come from draining and decanting the fat from the dark juice at the bottom of the dish.
TIME
3 hours 15 minutes