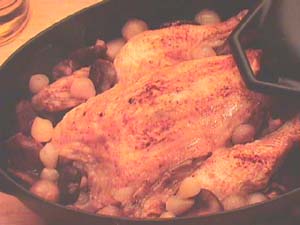 INGREDIENTS
2kg chicken
1kg minced pork
1kg minced beef
500g Jijona turrón
100g prunes
100g dried peaches or apricots
1 bread roll
100ml milk
100ml mellow or fragrant dry Jerez sherry
Salt and pepper
For the sauce:
2 leeks
2 carrots
1 onion
1 celery stalk
1 bunch of chopped aromatic herbs (laurel, sage, thyme)
METHOD
Ask the butcher to remove the bones from the chicken and leave it to marinate for a day in wine, salt and pepper.
Soak the bread roll in the milk and wine and mix it with the minced pork and beef. Put the mix into a grinder to make it finer.
Use part of this to fill half the chicken, and in the middle put a piece of turrón, the prunes and the dried fruit and then finish stuffing the chicken with the rest of the meat mixture. Sow the chicken up and wrap it in cling film. Put the chicken in a serving dish with the vegetables and the herbs for the sauce. Cook in the middle of the oven for 2.5 hours, covering it in wine every so often. At the same time put the sauce ingredients in a pan with a little water, boil them for a few minutes then pass them through a conical cylinder to get some juice.
TIME
hours 15 minutes + 24 hours to marinate.