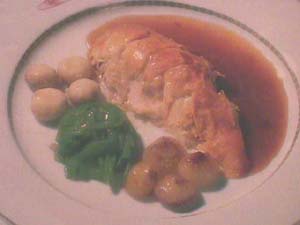 INGREDIENTS
2kg poularde
100g pork lard
100ml white wine
100g tarragon
250g mushrooms
250g green beans
500g French onions
1 shallot
Lemon
1 laurel leaf
30g potato starch
20g butter
250g chicken stock
Salt
METHOD
Clean the poularde and season with salt. Put it with the pork lard in a casserole dish in the oven for approximately 45 minutes. Once it is roasted cut the breast and thighs into strips. To make the sauce, put butter, the finely chopped shallot and the tarragon into a pan and lightly fry them for a few seconds until they go brown; next add the white wine and reduce it by half, then add the chicken stock. Thicken the mixture with the potato starch and then pass it through a conical strainer, so that the sauce remains thick but light.
To Garnish:
Rinse the mushrooms well and cook them with the juice of half a lemon, a little butter and some salt. Remove the threads from the green beans, cut them down the centre and cook them. Peel the French onions and cook them with the laurel leaf, a little butter and salt, then sauté everything with a little butter so that it browns a little.
Presentation:
Carefully place the strips of chicken thigh on 4 separate plates with the breast on top. Put the garnish on one side of the plate, and the sauce on the other. Serve hot.