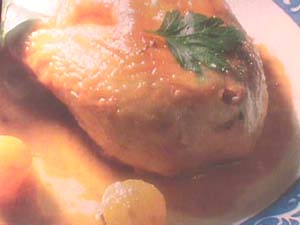 INGREDIENTS
1.5kg chicken
750g grapes
Some sheets of tarragon
20g goose fat or pork lard
3 rashers of bacon
1 teaspoon of green pepper
2 table spoons of cream
Salt
METHOD
Grease the chicken (which should be ready to roast) with the pork lard or the goose fat, salt it both on the inside and on the outside and tie the three rashers of bacon to it, one on the breast, one on the back and the third inside the chicken. Put it in a roasting dish or deep ovenproof dish. Preheat the oven for 5 minutes, and then put the chicken inside. Roast it in the middle of the oven on a high heat, for approximately an hour, depending on the size, turning it over a few times so that it browns all over. At the same time smother it with the juices in the bottom of the dish.
While it is roasting, peel and remove the seeds from the grapes, put one green pepper grain in each grape until you have run out. Put the rest of the grapes in a blender to create a thick juice.
When it is nicely roasted and tender, take it out, take off the rashers of bacon and the string and carve it.
Pour the grape juice and the cream in the empty roasting dish and put it back in the oven on a medium heat. Wash the tarragon and add it to the dish along with the grapes with the peppercorns. Mix it carefully and leave it to cook for 5 minutes. Mix it carefully and add more salt if necessary. Pour it on to the chicken and serve.
TIME
1 hour 20 minutes