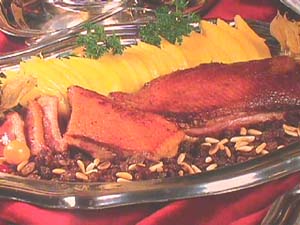 INGREDIENTS
2 duck breasts
1 chopped shallot
¼ beef juice
4 spoonfuls of apple vinegar
2 spoonfuls of sugar
Red and green pepper
Salt and pepper
METHOD
Salt and pepper the duck breasts and heat them slowly in a pan on the fatty side until they brown. When the fatty sides have been browned, turn them over to do the same to the other side. Take them out of the pan but keep them hot.
In the same pan add the chopped shallot and fry it gently, then add the sugar and the vinegar and allow it to reduce a little. When it has reduced, add the beef juice and drain it in a colander. Then add the pepper grains and allow it to reduce once again, at this point adding some salt, and if necessary thicken it.
To garnish it you can add apple purée, plums or a little mango.
TIME
1 hour 15 minutes