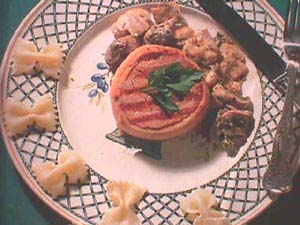 INGREDIENTS
thick fillet steaks
1 soup spoon of oil
25g butter
1 small carton of single cream
1 small tin of green pepper
400g mushrooms
1 soup spoon of white wine
Salt
METHOD
Wash the mushrooms in a dash of cold water, dry them with a clean tea towel, and then cut them into thick slices. Put the butter in a saucepan to melt a little, then lightly fry the mushrooms in it and add the wine.
Drain the green pepper from its liquid and crush it in a mortar, mixing it with the cream. Griddle the steaks with a little oil until they are done to your taste (4 minutes on each side is normally enough), then take them off but keep them hot.
Add the juice from the cream to the peppers and mix well. Then add the mushrooms and mix whilst heating gently. Serve the steaks with this sauce on top. You can serve it with sautéed potatoes or pasta ribbons.
TIME
20 minutes