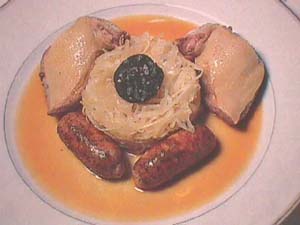 INGREDIENTS
4 x 600g pigeons
400g raw sauerkraut
4 x 30g truffles
100g goose fat
100g foie-gras
Salt and pepper
6 juniper berries
1 teaspoon coriander seeds
20g sugar
METHOD
Cut the pigeon meat and marinate the wings for 24 hours in 100g of salt, 20g of sugar, the juniper berries and the coriander seeds. De-bone the pigeon thighs, and mix them with the foie-gras, 30g of the truffles and salt and pepper, then make small sausages from this mix.
Rinse the sauerkraut well and glaze it with 50g of goose fat and 3 truffles. Add salt and pepper, two juniper berries and a little coriander. Halfway through cooking add the wings (well-marinated by now) and leave it to cook (without boiling) for 15 minutes. Fry the sausages in a pan with a little of the goose fat.
Presentation: make a dome with the sauerkraut; put the wings on top and the sausages as a garnish.
TIME
1 hour + 24 hours marinating