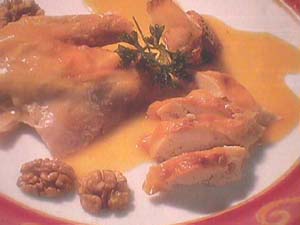 INGREDIENTS
4 pigeons
100g chopped walnuts
100g mushrooms
1 small onion
3 garlic cloves
3 slices of stale bread
50g pork lard
50ml olive oil
300ml chicken or vegetable stock
A dash of brandy
2 saffron grains
Parsley, salt and pepper
METHOD
Gut, pluck and clean the pigeons. Dry them and season them with salt and pepper. Chop up the onions and the garlic. Wash the mushrooms and then quarter them.
Heat half the oil and the lard in a frying pan. When they are hot, add the meat and lightly fry them for a few minutes until they brown, gradually adding the onions, half the garlic, and the mushrooms, so that they all fry together for a few minutes. Dust them with a little flour, flambé them with the brandy, add the stock and cook for half an hour.
Fry the bread separately with the rest of the garlic and crush it all together in a mortar with the saffron.
Add the mixture to the meat and keep it cooking on a slow heat for five minutes.
TIME
1 hour