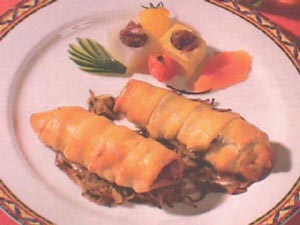 INGREDIENTS
3 pork steaks
100g puff pastry
Salt and pepper
Jamaican pepper
100g aubergine
Salt and sugar
METHOD
Cut the aubergine into strips and roast it on a low heat with olive oil, salt and a little sugar. Rinse the steaks, removing any membrane that is covering them. Season them with salt, black pepper and the Jamaican pepper which should have been crushed in a mortar. Wrap them in the pastry and cook in the oven for approximately 12-15 minutes.
To serve put the aubergine on a plate with the steaks in their pastry on top.
Accompany with cubes of squash and turnips filled with ratatouille.