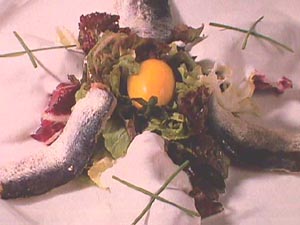 INGREDIENTS
Two pig´s brains
Dwo sardines
Lettuce and other green salad (florette)
Two cape gooseberries
Two cherry tomatoes
Olive oil
Jerez vinegar
Mayonnaise
METHOD
Put the pig´s brains in salted water with a Little vinegar and leave to soak in the refrigerator for 12 hours. Gut the sardines and then remove the fillets. With some prongs remove as many bones as possible. Season the fish by rubbing large salt crystals on both sides of the fillets and place those in the refrigerator also for 12 hours.
After the pig´s brains have sat in the refrigerator cook them by placing them in a pan of already boiling water. Whilst they boil wash the fillets in water until the salt has been washed off. If they are not going to be eaten on the day they can be kept in the refrigerator in oil.
Prepare and dress the salad and place in the centre of a plate. Then in the spaces place the brains and the sardines. Then dress the sardines and pig´s brains with the following sauce which is made the following way: Whip the egg white until it becomes white foam and has a peak, then add some jerez vinegar to the mayonnaise and combine the three and mix well.