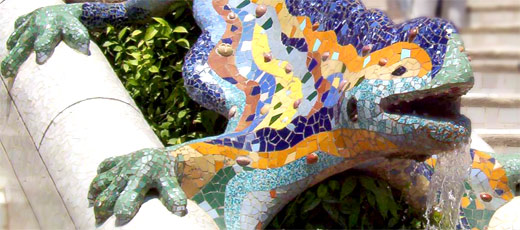 Find out more about one of the most famous Spanish architects - Antonio Gaudì and his most famous pieces: Sagrada Familia, Park Güell, Casa Batlló and Milá.
Ever had a glimpse at the architectural universe of Antonio Gaudí, the Catalan enigma that came to leave an imprint on Barcelona that is uniquely personal to the city today? Who can say that they have been to Barcelona if they have not visited the Sagrada Familia, the Park Güell, the Casa Milá or the Casa Batlló? One is left feeling amazed by their strange originality. Gaudí once said: "Originality is the return to the origins"... So, let us go back to the origins of his phenomenon.
The youngest of five children, Antoni Gaudì was born in the Catalan province of Tarragona on June 25th 1852 to a family of 4 generations of artisan coppersmiths. Little is known of Gaudi's early childhood, except that he suffered from rheumatism from the age of six which often interrupted his education at the school, isolated him from his peers, and confined him to a strict vegetarian diet. He would rely on a donkey to venture outside the house when his body was in pain. The fact that he had to remain close to home made him a keen observer and analyst of nature and its shapes, which were later reflected in his works. He was the first Gaudí to remove himself from the family's long-standing craft tradition.
Gaudí was far from an outstanding student in the religious schools that he attended. As a student of architecture, it is said that he missed many classes, but was known to spend much time in the library. He liked to attend lectures in subjects other than his own because he thought new developments in architecture depended on social and political climate, rather than on architecture itself. His results as a student were mediocre, though he excelled in a couple of projects. Gaudi's interest in the School of Architecture became second in importance, while his apprenticeship as an assistant during his student years in different architectural practices of Barcelona became his first priority. Gaudí attained his architectural degree in 1878 and the school's headmaster Elies Rogent is quoted to have said: "Who knows if we have given a diploma to a nutcase or a genius. Time will tell".
Gaudí's arrival in the world of architecture coincided with a period of strong economic and urban growth in Barcelona, mainly due to the city's prospering textile industry. His early work on the Casa Vicens and the Villa El Capricho were followed by the Finca Güell, the first work completed for his patron, Eusebi Güell. Then the famous Park Güell, a city-garden park modeled after English parks and intended to be residence of 60 upper middle-class families. This environmentally sensitive project provided the rocky and unleveled grounds of Güell's large estate with entry gates, a market, a main square, drainage, reservoirs, roads, paths, staircases and fences. Gaudí himself lived in the park's model home with his father and his niece.
In 1883, his work as an assistant for the architect Martorell led to his biggest commissioned project: La Sagrada Familia. Gaudí worked on this project for most of his life (43 years), without ever seeing it finished. Unfinished to this day, the construction of the Sagrada Familia is speculated to be completed by 2026 given that there are no blue prints to follow... Gaudi worked purely from his ideas and that's all we have to go by. The cathedral's preservation became a great matter of debate as a TGV (Tren de Gran Velocidad - high velocity train) tunnel was built beneath its foundations in late 2007 and early 2008.
Josep Batlló, who wanted to have his house on the affluent Passeig de Grácia Street renovated, hired Gaudí in 1904. The renovations of the Casa Batlló left many flabbergasted with its undulating wall patterns, large windows and elaborate façade. This led Pere Milá, a member of the Spanish Parliament, to ask Gaudí to construct a new building on the corner of the same street: Casa Milá, known as La Pedrera or "Stone Pit". The monumental building's façade, which houses two blocks of apartments, is clearly described by its nickname. The city once attempted to stop its construction as its dimensions exceeded the legal limits, but Gaudí proceeded with his work until completion.
Other projects worth mentioning include the Casa de los Botines on the main square in the Castilian city of León, as well as the Catedral de Palma de Mallorca, on which Antoni Gaudí was prevented from continuing his work, which was considered to betray its original style.
In his work, he had a close relationship with craftsmen of all kinds, and his pursuit for the perfect result could make him harsh in his treatment of them at times. However, he was a fervent defender of workers' rights, as well as a burning fighter for the Catalan Nationalist cause: so much so that he only spoke in Catalan and refused to speak Spanish (although he knew the language). Many of his productions contain testimonies to his nationalism, such as the crest of Catalonia and sculptures of Saint George, the patron saint of the region.
In 1910, Gaudí's critical health condition deteriorated with Maltese fever. This condition and a downturn in the economy led him to stop work on all projects, except his ambitious Sagrada Familia. Having been a bachelor all his life, he moved into a studio on the premises of the cathedral, became taciturn and stopped caring about his appearance altogether. On June 7th of 1926, he was run over by a street tram. Cab drivers, mistaking him for a beggar, refused to drive him to a hospital believing he would not be able to pay them for the ride due to the disheveled aspect of his clothes. Eventually, he was taken to a hospital, but one for the poor. When his friends finally found him in the hospital, it was Gaudí who refused to be moved to a better place for treatment declaring that he "belonged among the poor". He died three days later. Proud Barcelona mourned his death wearing black and honored him by burying him in his Sagrada Familia.