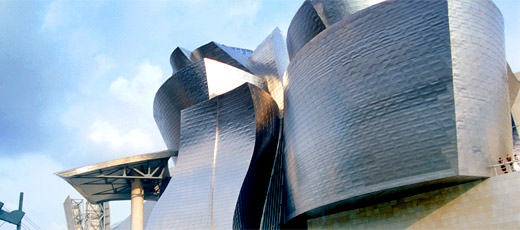 The Guggenheim in Bilbao. Find out with DonQuijote.org the most modern museum you have to visit in Bilbao during your stay in Spain learning spanish
The mission and goal of the world renowned Guggenheim collections and 5 museum locations spread over several continents is to educate the public about modern and contemporary art. Solomon R. Guggenheim´s vision was to advance new and budding artists while promoting his favorite genres of art for the public to appreciate and learn from.
Seemingly the entire Guggenheim family was entrepreneurs from the word go with wealth and notoriety before the Guggenheim name entered the art world. Solomon R. was born to Swiss immigrants in Philadelphia, Pennsylvania February 2nd, 1861. Meyer Guggenheim and Barbara Meyer owned a Swiss needlework business that imported and exported goods. However, Meyer had purchased 1/3 of a lucrative silver mine in Leadville, Colorado in 1879 and this is where the bulk of their multi-million dollar fortune began.
Guggenheim was educated in public school in Philadelphia before going away to study German and business at Concordia Institute in Zürich, Switzerland. When Guggenheim returned to America he worked several positions at his father´s mines until he took a managerial role at the newest family enterprise in Mexico, the Compañia de la Gran Fundicion Nacional Mexicana in 1891.
His success as a leader in Mexico, brokering tax breaks with the government, enlarging the business, and establishing railroad deals led to a multi-million dollar enterprise by 1895. The entrepreneur moved on to Chile as president of the Braden Copper Company, travelling back and forth between New York and Latin America. With his continued success, the third venture came to fruition on the Alaskan frontier when the Yukon Gold Company opened in 1906.
In 1895, the mining magnate married child welfare advocate and art collector Irene Rothschild, from the prestigious New York banking family. It was through Irene that Guggenheim was introduced to art, specifically German modern artist Hilla Rebay (Baroness Hildegard Rebay von Ehrenwiesen) in 1926.
The Guggenheim Museum of Non-Objective Painting opened in New York City on May 31st, 1939 with funding and direction from Guggenheim and Rebay. The museum held American and European abstract art. The Guggenheim Foundation, meanwhile, also provided grants and funding to art students and new artists. On October 21st, 1959 the Solomon R. Guggenheim Museum opened on 5th Avenue in New York City 10 years after Guggenheim died.
With the success of New York, in 1997 the Foundation opened The Guggenheim Bilbao, Spain, designed by Frank Gehry, an amazing structure that fuses art and construction with materials of limestone, glass and titanium. The museum is on the Bay of Biscay, which is one of Spain´s most important ports; Bilbao is Spain´s fourth largest city.
The Bilbao site was part of a major city-wide redevelopment plan by the Basque government begun in the 1980s to revitalize the subway system and airport as well as introducing green zones and pedestrian friendly areas.
In 1997 Juan Ignacio Vidarte, the current director of Guggenheim Bilbao, organized an international inauguration of the new structure. Spain´s Queen Sofia and King Juan Carlos I among many other international guests were part of the gala event.
The Deutsch Guggenheim in Berlin, funded entirely by the Deutsche Bank Corporation, was the next site to don the famous Swiss name, followed by a Venice site in 2000. Abu Dhabi in the United Arab Emirates also designed by Gehry is a 450,000 sq. ft. structure currently under development.