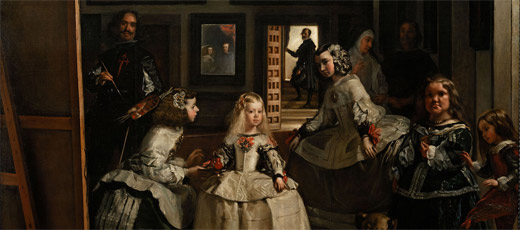 The Prado Museum is considered one of the best art galleries in the world for its excellent art collection of paintings from 16th to 18th centuries.
The Prado Museum is situated in Madrid, the capital of Spain. It is considered one of the best art galleries in the world and contains an excellent collection of paintings from the 16th-18th centuries.
It began with the royal collection of Felipe II, but it also contains some paintings of the Catholic Kings and of the Emperor Carlos, his father. Both the Habsburgo dynasty and the Bourbon dynasty have continued the tradition, acquiring paintings and sculptures that make up the current collection.
It can be said that among the many artists that make up the collection, one stands out above the rest due to his extreme importance in art all over the world: Diego Velázquez, and in particular his piece called "Las Meninas" ("Ladies In Waiting"), from the peak of the Baroque era in Spain. It is found in room 12, on the central wall of the apse of the museum.
Another of the great masterminds that revolutionized painting on a global scale, and who has an extraordinary collection in the museum is Francisco de Goya, artist for the court of Carlos IV and graphic witness of the Spanish War of Independence (1808-1814). Among them are "La Maja Vestida" (The Clothed Woman"), "El Dos De Mayo" ("The Second of May"), and "La Familia de Carlos IV" ("The Family of Carlos IV").
Although paintings make up the majority of the Prado´s collection, it also offers a small, but no less important, collection of sculptures, which emphasize some Roman and Renaissance works.
Among the works of silver we recommend "El Tesoro de Delfín" (The Dolphin´s Treasure"), the heritage of Felipe V, the first of the Bourbon dynasty. It also contains a wide collection of gold and carved stones.
The Prado art museum has been expanded several times due to the increasing number of acquisitions for the collection. On 30th October 2007 the final extension was opened, which is known as the "Cubo de Moneo" (after the architect, Rafael Moneo), and is situated in the back of the museum, next to the "Iglesia de los Jerónimos" (Church of St Geromimo). This new building is attached to the main building by means of an underground passage. According to estimations, with this new building the collection on display in the museum will be increased by 50%, although these new collections are still being organized, and are expected to be ready in 2012.
Two other museums make up the Prado, the Thyssen-Bornemisza, the private collection of Baron Thyssen; and the Reina Sofía which was completed in 1990. The majority of this is dedicated to contemporary art and highlights on its second floor the work of art by Pablo Picasso, "Guernica" (1937), among other works by the same artist. These three museums which are situated strategically near each other create the so called "Triangulo del Arte" ("Art Triangle") of Madrid, which you must visit during your stay in the capital of Spain