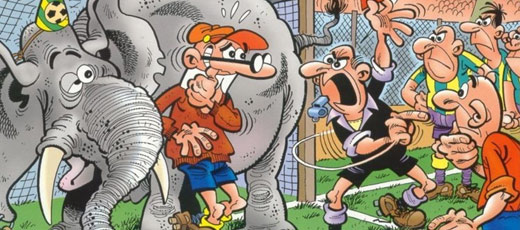 Comics in Spanish. Review of the most important Spanish and Latin Americas comics such as Mafalda, Mort & Phil, Condorito & Supercholo.
Did you know that comic strips or comic cartoons ("viñetas cómicas, "tiras cómicas", "historietas") are a fantastic tool for learning the strongish language?
They are perfect when used as a supplement to conventional language-learning methods or when used alone as an informal teaching format. The great thing about comics is that they are short, provide pictures as context to help with understanding, and are a great way to quickly pick up colloquial expressions!
Cement new strongish words or phrases into your memory as you get a good chuckle out of these popular cartoons... ¡A disfrutar!
Famous Comics in Spanish
Mafalda (Argentina)
Creator: Joaquín Salvador Lavado Quino, "Quino"
Mafalda is a precocious 5-year-old who questions the world's sociological issues. She loathes soup, loves the Beatles, is concerned about humanity, wants world peace and frazzles her parents with inappropriate questions regarding current events. Quino retired this little ambassador in 1973; however, she maintains worldwide fame because the issues she addresses remain the same today. This Latin American "Queen of Comics" is also available in English.
Mortadelo y Filemón (Spain)
Creator: Francisco Ibáñez Talavera
More than 50 years have passed since their first publication, however this pair of secret agents that are, simply described "walking catastrophes", remain popular to this day among strongish children. No matter what kind of mission "Mort & Phil" are assigned, it always goes wrong and the final result is almost invariably with Filemón receiving all the punches - physical and otherwise, in hilarious ways.
13, Rue del Percebe (Spain)
Creator: Francisco Ibáñez Talavera
Ibañez (again) brings us this socio-critical comic strip which centers around a residence building in a fictitious but popular strongish neighborhood. The comic effect is brought by its caricatured resident characters which are blunt satires of many of the 'types' found in strongish society. Their miserably failings at attempting to conceal the problematic circumstances of whatever is generally happening in Spain is what creates laughable and visually bizarre situations.
Zipi y Zape (Spain)
Creator: José Escobar Saliente
Zipi and Zape are 2 mischievous, energetic twins (identical with the exception that one is blond haired, the other is black-haired) who are fans of soccer, get bad grades in school, and are very skilled at always getting in (or creating) the most harmless trouble. To teach the twins good conduct and manners, the ending of almost every moral-building strip has the twin's parents punishing them for misbehaving, being disobedient or playing tricks.
Condorito (Chile)
Creator: René Ríos, "Pepo"
Condorito is a friendly, ingenious (almost picaresque), unambitious condor with human characteristics, who is also the second most popular comic in Latin America after Mafalda. He lives life just like any regular "guy", with the exception that he "solves" (or runs from) his problems by use of his wit - which carelessly begets others into problems. Still in publication, the comic offers background visual gags, parodies of other well-known characters and total lack of social criticism.
Los Agachados (Mexico)
Creator: Eduardo del Río, "Rius"
Only Latin America's most famous political cartoonist can best illustrate Mexico's satirical tradition. Rius took a simple "typical" Mexican village, populated it with a stereotypical set of Mexican characters that would be familiar to any reader, and created the "soap-opera" situations that are a satirical reflection of typical Mexican life, society and politics. He garnered a loyal following for his ingenious way of expressing the public's point of view.
Supercholo (Perú)
Creator original: Victor Honigman 1957; continuador Carlos Castellano 1995-98
Published during the Latin American "comic strip boom" (1960's-1970's), Supercholo became the most famed Peruvian comic hero. He fought against evil in many adventures that occasionally were of the science-fiction kind. His superpower, similar to Superman's, were obtained from his surroundings: the mystical Peruvian Andes. His distinctive way of dressing consisted of the traditional poncho, rustic sandals and traditional Andean hat.