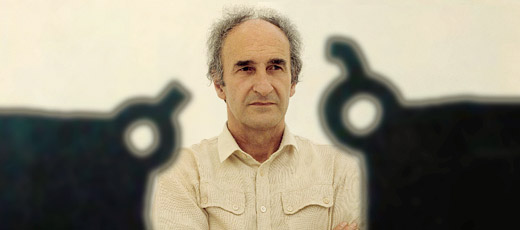 Eduardo Chillida. The Spanish sculptor has succeeded in developing an original style, which allows people to unmistakably identify his sculptures.
When we talk about fine arts, we all think about music, dancing, and painting. Some of us remember to include poetry, but most of us forget to mention sculpting. Many countries´ fine art employment statistics show that there are large numbers of painters, musicians and poets while sculptors are usually in a minority. The fact that the materials used in the sculpting industry are not easy to work with and that stonework, bronze work and ironwork, etc. pose both technical and economic difficulties probably explains why there are not so many specialists in this field.
 Eduardo Chillida Juantegui, the son of a soldier and a soprano, was born on 10thJanuary 1924, in San Sebastián. He was the oldest son of this well-off family which soon increased in size with the birth of two more sons. Eduardo studied in a religious college which he left because of his rebellious attitude joining a private academy.
At the outbreak of the Civil War his parents sent him to the house of some friends in France, where he learnt to speak the language.
At 19 years of age he set out to study architecture, combining his studies with his position as a goalkeeper for the "Real Sociedad" football team, based in San Sebastián. However, he would not continue along this sporting and academic path: he abandoned his architectural studies in order to pursue a career as an artist and he gave up his position in the team because a knee injury permanently prevented him from playing in matches.
The young artist began to teach himself how to draw in Madrid´s Círculo de Bellas Artes.  It was there that he discovered his artistic talent but, because he wanted to have more control over his works and to develop his ability to draw with both hands,he started drawing with his left hand which allowed his brain to always be in control of his creations. Throughout his life, Eduardo constantly sought to create totally abstract works of art always providing a rational and intellectual explanation behind them.
In 1948 he settled in Paris, where he got to know artists such as Picasso, Julio González and Brancusi and the archaic, Greek sculptures in this city seriously impressed him. This impression was captured in one of his first works: Torso, which was one of the first sculptures he exhibited along with Metamorfosis. While he was returning to Hernani, in the Basque Country, in 1951 some of his sculptures got broken. This seemed to be the tipping point in Chillida's life. He began working with iron, learning forging techniquesin a forge situated in Hernani.
This is the town where he became interested in metal working and where he created his sculpture llarik, his first abstract work of art, inspired by the Basque funerary steles (wooden /stone slabs). He then created a series of works culminating in his first Peine del viento (Wind comb) which would evolve to become the group of sculptures visible in San Sebastián today. They are considered to be one of his most important and well-known pieces.
During the 50s, after designing the entrance gates of the Basilica de Aránzazu, the Basque Country's most important religious building, he garnered much international recognition, with exhibitions in New York, Paris, Milan, London and Madrid; in 1968 he also participated in the Venice Biennale (a major modern art exhibition), where he won the International Grand Prize for Sculpture.
At the beginning of the 60s he became interested in creating sculptures with interior spaces and in studying the way light could be used as an architectural effect. He started working with alabaster, focusing onthe way light passes through this material and looking at how to use this effect in his works of art. Chillida was obsessed with seeking how to create interior spaces in his sculptures. This obsession culminated in the Tindaya Project (el Proyecto Tindaya). The purpose of this venture is to create an empty, 50 meter wide by 50 meter high space inside a mountain, after which the project takes its name, on the Island of Fuerteventura (one of the Canary Islands). The author revealed that he wanted to create a space where people can meet and everybody is tolerant of each other. This project has encountered several problems during its implementation and conservation groups strongly oppose it. Even today the project's fate hangs in the balance.
In the 70s he was a visiting professor at Harvard, he began working with concrete and he created his first suspended sculptures including Lugar de encuentros III. This can be seen hanging below the bridge over Madrid´s Paseo de la Castellana.
In 1984 thanks to his sustained efforts, non-stop exhibitions and participation in international events, Chillida was able to begin fulfilling one of his dreams: he bought a country house in Hernani where he could carry out something he had talked about:  "One day I had a dream about creating a perfect place: finding a space where I could set up my sculptures and people could walk through them as though they were walking through a wood." In 2000, this dream became a reality with the opening of the Chillida-Leku Museum. This attraction closed its doors to the public in 2011 because of disagreements between the sculptor´s family and the Basque Government.
Throughout his life Eduardo Chillida received many honors and recognitions. The last one he was awarded, before his death, was an Honorary Doctorate from Madrid´s Complutense University, on 19th August 2002. The ceremony took place in the gardens of his museum.
There is no doubt that it is thanks to his own hard work that this man, who spent his life seeking to use  the interior spaces of sculptures for artistic effect and to spread the values of tolerance and justice,  is highly thought of in the 20th century world of sculpting.