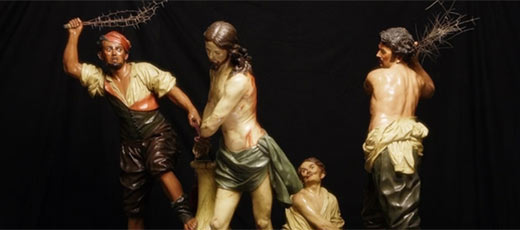 Francisco Salzillo is one of Spain's most important sculptors from the 18th century. Today, his work continues inspiring admiration in those who view it.
As spring approaches, cities and towns across Spain fill with Easter processions, popular manifestations of faith and tradition in which participants march through streets and town squares. Easter week is known here as Semana Santa (literally "holy week), a time when the faithful and the curious alike crowd together to observe these parades that offer moving representations of the death and resurrection of Jesus.
A number of Spanish cities compete among one another to put on the most spectacular celebration. There is one city however that is especially recognized for its beautiful Semana Santa processions: Murcia, with its religious statues designed by Spain's most famous and prestigious religious statue maker Francisco Salzillo.
Francisco Salzillo y Alcaraz was born in Murcia in 1707, the son of Nicolas Salzillo, an Italian sculptor, and Isabel Alcaraz who was from Murcia. The oldest boy of eight siblings, as a young man Francisco began his studies with the Jesuits. He also entered the Dominican Order as a novice to take over his father's sculpture work and maintain his family after his father died in 1727. Francisco had inherited Italian sculpting techniques and as a child he had learned to paint under the famous master Manuel Sanchez. The artist would soon carry out his artistic dream "to be a sculptor of paint and a painter of sculpture". His prestige as a sculpture soon grew to surpass that of his father.
The young Salzillo had always hoped to travel to Rome to perfect his technique, a desire never fulfilled due in large part to his mother's pleading that he not go. A love of his home town inspired him to reject a promising offer from Count Floridablanca, the minister of foreign affairs also originally from Murcia, to move to Madrid and join the court, where his sculptures would have earned much greater fame. Salzillo ended up spending nearly his entire life in Murcia, in fact there is only one recorded instance of him ever leaving: in 1755 he went to Cartagana to deliver an order of four statues of saints.
In 1746 he married Juan Vallejo, with whom he had two children. Their first child, named Nicolas like his grandfather, died just one year after birth, a tragedy that likely pushed Francisco deeper into his devotion to his work and religious convictions.
In 1755, he was named Official Sculptor and inspector of painting and sculpture of the Council of Murcia, clearly proving the level of prestige he had attained.
After the death of his wife in 1763, Salzillo broadened his contact with other artists and in 1779 they founded the Real Sociedad Económica de Amigos del País de Murcia (the Royal Economic Society of the Friends of the Murcian Region). The Escuela Patriótica de Dibujo (Patriotic School of Drawing) grew out of this society, a school that Salzillo himself headed as its first director.
He had lived a prolific creative life, and his death on March 2, 1783 was widely mourned in the city of Murcia.
Salzillo's style displays the height of Spanish baroque highlighted by Italian influences handed down by his father. He also blended these with influences from Spanish and French artists. The result is an extraordinary elegant and bold example of neoclassicism.
His most famous works include images of: the Virgin Mary for the Parrish of Santa Catalina, Saint Joseph for Santa Clara, and the Sacred Family for San Miguel y la Inmaculada del Convento de las Verónicas. All of the works listed here are in Murcia.
Salzillo later created sculptural groups for floats to be featured in holy week processions in Murcia, Lorca, Yecla and Orihuela. Perhaps the most stunning collection of his work can be seen in Cartagena's procession of the Cofradía Nuestro Padre Jesús de Murcia and the Cofradía of California de Cartagena. Observing these works of art in procession is like watching a museum in motion pass before our eyes.
Francisco Salzillo's Nativity scene, began in 1776 and commissioned by Jesualdo Riquelme, is a sculpture that showcases the artist's incredible delicacy. When the piece remained unfinished upon Salzillo's death, his most skilled apprentice Roque Lopez completed the project. This gorgeous scene is made up of 556 figures between 25 and 30 centimeters in size, sculpted in terracotta and wood. The Nativity Scene's figures reflect an almost anthropological glimpse of rural life in Murcia.
In conclusion, Francisco Salzillo is one of Spain's most important sculptors from the 18th century. Today, his work continues inspiring admiration and devotion in those who view it, whether they are in the museum (www.museosalzillo.es) dedicated to the sculptor by the city of Murcia, or in a procession during holy week.