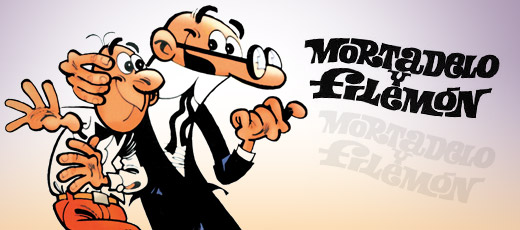 The screwball duo created by Francisco Ibáñez not only delights tickled fans but also offers them food for thought on current topics of interest.
Graphic comic strips, made up of a series of drawings split up into individual cartoons with dialogues placed in balloons, have formed part of the Spanish publishing world since the beginning of the 20thcentury.
The clearest example of this kind of art formis probably the magazine TBO, which published its first edition in 1917 and which was regularly stocked in newsagents until 1998.  Such was its success that Spaniards coined the word "tebeo" to refer to "children's magazines where the storyline unfolds in the form of a series of pictures." In 1968 the term was included in the Real Academia Española's dictionary.
When it comes to Spanish popular culture in the second half of the 20thcentury, especially in the category of youth literature, two names that all Spaniards know off by heartdeserve special mention: Mortadelo and Filemón.
If we leave the American comic universe to one side, and we just stick to Europe, graphic comics have become very popular, especially in countries such as Belgium, France, Italy and Spain. Characters and/ or publications with titles such as Lucky Luke, Tintin, Asterix, Corto Maltese or Schtroumpfs ( Pitufos in Spain) form part of Europe's cultural heritage. Some of these characters ceased to be published and disappeared following the deaths of the authors who created them.  This is what happened to Tintin, which ceased publication in 1976 after the death of its creator Hergé or Peanuts (Carlitos and Snoopy in Spanish) which stopped being printed because of the passing of its writer Schulz in 2000.
As for the comic Mortadelo and Filemón, it is always talked about in relation to its author, Francisco Ibáñez.  Born in Barcelona just before the beginning of the Spanish Civil War, he gave up his job in a bank to dedicate himself fully to his passion: drawing. Since 1958 he has been working nonstop to create new comics and he is still at it today. That means that he has spent more than 60 years continually creating adventures involving this pair of characters.
Mortadelo is a tall and bald character who always wears a black frock coat and round glasses. Although he is not very clever he is incredibly skilled at disguising his appearance. Filemón is short and he wears red trousers, a white shirt and a black bow tie. Only two hairs sprout from his head so he is also basically bald and he has a short temper. Both of them work for an agency called the T.I.A (Técnicos de Investigación Aeroterráquea, a spoof of the American C.I.A.) as secret agents. Their team is led by "Superintendent Vincente" (called el Súper by the agents), who regularly has to put up with the pair's incompetence.  The scientific scenes star a character known as Doctor Bacterio, a fairly clumsy researcher and inventor who is always creating gadgets and products which constantly endanger the lives of his victims: the agents.  One female character is the secretary, Ofelia, who is secretly in love with Mortadelo, but he completely ignores her.
The characters have evolved quite a lot since their original creation at the end of the 50s but they have still retained the same basic traits over all this time.  You could argue that they were originally a parody of Holmes and Watson, but over the years they have acquired their own personalities which have enabled them to capture the attention and interest of readers for over 60 years.
As of 2015 200 extended adventures (each one havingon average between 44 and 46 pages) have been printed with Ediciones B currently being responsible for their publication.
All of these comics have recurring themes. For example, the pair is always assigned the most dangerous missions and Mortadelo always makes a mistake with Filemón suffering the consequences.  The latter inevitably gets cross with his partner, but they always manage to defeat the bad guys while on the job thanks to luck being on their side. Furthermore, the latest adventures involving this hapless duo have featured numerous caricatures of personalities in today´s society and allusions to current events with several celebrities including corrupt politicians, athletes and actors making appearances.
The pair is politically incorrect but their use of bad language rarely extends beyond the ever present "Darn it!" The names of the characters who appear in the stories always end in –ez, with two examples being Petrólez and Bestiájez. Several pictorial details, which characterize Ibáñez´s style, are worth mentioning including the omnipresent spider webs in every corner and the importance of somewhat strange actions which take place in the background: a mouse chasing a cat, a no camel parking sign, or the strange forewarning in the 35thanniversary commemorative comic album (published in 1992). It tells the story of Mortadelo and Filemón´s trip to New York and it includes pictures showing the Statue of Liberty together with a statue of the author and the twin towers in the background with a plane crashing into them, nine years before the terrible events of 9/11.
In the 60s several animated cartoons based on these comics were produced.  Later on the T.I.A's agents hit the big screen with two live action films: Mortadelo & Filemón: The Big Adventure,in 2003(La gran aventura de Mortadelo y Filemón) and Mort & Phil. Mission: Save the Planet, in 2008 (Mortadelo y Filemón. Misión: Salvar la Tierra). They were both directed by Javier Fresser and they became box office hits. In 2014, the animated film Mortadelo and Filemón: Mission Implausible (Mortadelo y Filemón contra Jimmy el "Cachondo"), was released with a storyline closely resembling that of the identically titled, print version.
In English the comics are entitled Mort & Phil, in German, Norwegian and Czech the title is Clever & Smart, while in Dutch it is Paling & Ko and in Swedish  it is Flink och Fummel. However, these are only a handful of the more than 20 languages which the comics are available in.
In November 2013,TVE (Spain´s state-owned, public-service television broadcaster) investigated the life of this comic book creator and the inspirations behind his characters during an edition of their arts program, La mitad invisible.
The father of this comic book, Francisco Ibáñez, received the 1994 Grand Prize of the Barcelona International Comics Convention (el Gran Premio del Salón del Cómic de Barcelona) for his creations andt he Gold Medal for Merit in Fine Arts (la Medalla de Oro al Mérito en las Bellas Artes),  in 2001. Nowadays, he continues to win the affection, admiration and respect of several generations of fans of these two agents from the T.I.A and we are looking forward to the publication of the next volume recounting their always hilarious adventures and misfortunes.