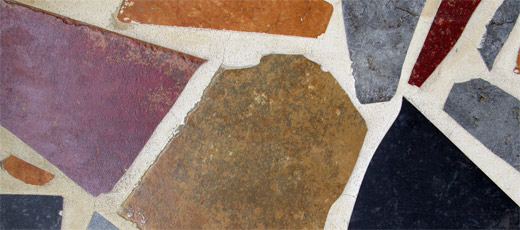 Ceramics and Mosaics in Spain. Find out information about Spanish ceramics tradition such as tile, azulejos & mosaics. Discover ceramic art in Spain.
Over the last few years, the colorful ceramics for which Spain is famous has become big marketable business abroad. But, ceramics in Spain is more than a business, it is a tradition: earthenware dishes, tiles, vases, and other ceramics with bright colors and beautiful designs have been crafted in the Iberian Peninsula for centuries.
The majority of intricately designed azulejos (tiles) that adorn the walls of the Alhambra palace in Granada - as well as many houses throughout the southern Andalusia region- are heavily influenced by Arab culture: Islamic religion does not allow representation of humans in artwork, therefore many azulejos, potteries and other crafts were decorated with florals and complex geometric patterns. Catalan architect Antonio Gaudí took decorating with azulejos to new levels in his native Barcelona: Gaudí incorporated millions of broken natural and glazed ceramic tiles into his works of arts to create the strikingly odd displays of colourful mosaic-style creations that can be admired in places such as Parc Guell and Casa Batllo.
Although big cities like Valencia and Sevilla are home to large manufacturers that take care of mass ceramic productions, small towns also make their marks by making their own pottery and ceramics in distinctive styles. A town with a rich legacy of artisan ceramics can be found right on the banks of the Tajo River about forty-five minutes from Toledo. This town is Talavera de la Reina, and is renowned for maintaining centuries-old traditional Castilian pottery and for setting the highest standard for the rest of the world. In Latin America, especially in Mexico, the common term for hand-painted ceramics produced in colors like cobalt blue, sunflower yellow, green and white is "Talavera," paying homage to its origins. Talavera also holds a Ceramics Museum which displays astonishing ceramic pieces ranging from the XVI century to the XX century on a year-round basis.
The typical colors used in the decoration of ceramics are those associated with the sunny Mediterranean coast: cobalt blue, deep yellow, red, purple, pink, and white. Since a good deal of the ceramics made in Spain are individually hand-spun on a wheel or molded by hand, and then fired, glazed, painted and fired again, you will often find that although common in resemblance, no two pieces are exactly alike. Their lively bright colors - which are trademarks of Spanish ceramics - mask these "imperfections" and make these artworks great for table use or simply as decoration!
Some Spanish ceramics lack colors and yet remain beautiful. Cazuelas de barro, for example, are glazed clay bowls that are practical in every way: they can be used as serving plates, are freezer safe, and tough enough to handle baking in your oven, stovetop and microwave cooking! Cazuelas come in a variety of sizes, from 10cm (4inch) to a whopping 36cm (14 inch). This type of earthenware cookery is traditionally used to present a crema catalana, cook a mean stew like the fabada asturiana or serving strongish flan!
A wide selection of handmade and hand-painted bowls, plates, vases and tiles to suit everyone's tastes, needs and decoration style are available for purchase on trips to Spain or from many of the ceramic retailers online. Why not study Spanish in Spain and take home your very own traditional ceramic art?