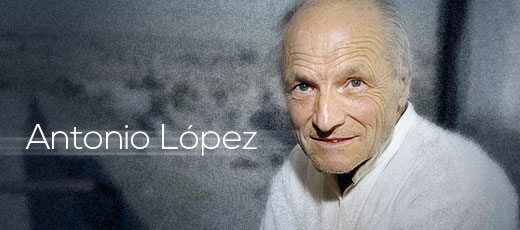 Antonio Lopez. In 2006, the Spanish painter was awarded the Velázquez Prize for his excellent contribution to Ibero-American and Spanish culture.
Somewhere in La Mancha, in a place whose name I do remember (Tomelloso) a child was born in 1936, just months before the Spanish Civil War broke out. His parents named him Antonio. He was the oldest of four siblings in an economically stable family from a rural community. Antonio's father's brother, Antonio López Torres, was a painter whose influence made a lasting impact on his nephew, his namesake.
Antonio López García
Although he had one of the most common names imaginable in Spain (Antonio López García), as a young man he forged uncommonly spectacular artistic skills. Firstly, he possessed an innate and incredible attention to detail. Secondly, he spent countless endless hours in the studio crafting and recrafting paintings until they seemed to him as least imperfect as possible –because they never seemed perfect, complete…
 Antonio López is an ordinary looking man, with a slightly bent back from carrying the weight of brilliance and quick lively eyes that gaze far beyond what most of us can see. His clothing style reflects a certain Spartan air, or even a ragtag one at times. This artist from La Mancha traveled to Madrid in 1949 at just 13 years of age to enter the San Fernando Academy of Fine Arts. He studied there until 1955, when he earned a grant that allowed him to travel to Italy to study the Renaissance masters. When he saw in person the celebrated works he had only known from books he was disappointed. The feeling encouraged him to find inspiration in the "classic" Spanish paintings that he knew well from his frequent visits to the Prado Museum. He took a special interest in Diego Velázquez that continues to this day.
Like Seville's Velázquez, Antonio López is a master of color (he in fact occupied the academic chair of color preparation at the Escuela de Bellas Artes de S. Fernando until 1969). His landscapes are almost always uninhabited and meticulous. His style, which could be described as hyperrealist, can be seen not only in his paintings but in his sculptures as well, pieces that feature levels of naturalness and realism that surprise the viewer. A wonderful example of his work are enormous sculptures of baby heads (his daughter María), pieces entitled Día (day) and Noche (night), which sit in the Atocha area of Madrid and recall the ancient head sculptures of the Olmecs of Mesoamerica.
Exhibitions and Awards
Antonio López had his first personal exhibitions in 1957 and 1961. Lopez is not a man known for his appearances in public or at expositions: a perfectionist never satisfied with his own work, never considering his pieces as being completely finished, his body of work is rather small, as López himself has often noted. Despite his modest level of production, he has earned popular and critical attention. In something of a long-distance race, competing in slow but consistent form, López won the prestigious Prince of Asturias Awards for the Arts in 1985. Just a few years later, the very personable Víctor Erice made a movie of the painter –now a cult classic among film fanatics- about López's creation process. The film, entitled El sol del membrillo, features a suffering López and his ultimate failure to capture the sun in a quince tree in his garden. The film earned the Jury Prize at the Cannes Film Festival.
In 1993, he was named a full member of the Royal Academy of San Fernando, around the same time as a retrospective exhibit of his work was held at the Museo Reina Sofía in Madrid. In 2006, he was awarded the Velázquez Prize for Visual Arts for his entire oeuvre and for his "excellent contribution to Spanish and Ibero-American culture". Two years later, his piece Madrid desde Torres Blancas was auctioned at Christie's of London for nearly 2 million Euros, which at the time was the highest price ever paid for a piece of art by a living Spaniard.
In 2011, the Thyssen Museum and the Museum of Fine Arts of Bilbao each presented exhibits of the painter's work that were hailed as popular successes on a level never before seen.
He holds honorary degrees from both the universities of Navarra (2011) and Murcia (2014). He has also been awarded the Prince of Viana Prize for Culture (2012), and the International Medal of Arts (2012). The impressive list of awards however has not gone to his head. He is still finishing a portrait that he was commissioned with twenty years ago, a work that he is still not completely satisfied with. It was originally called Retrato de la familia real (portrait of the royal family), but over time, historical events obliged him to change the title to Retrato de la familia del rey Juan Carlos (portrait of the King Juan Carlos' family).