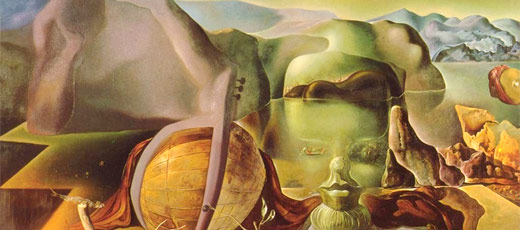 Salvador Dali biography & paintings. The artist Salvador Dali is an icon of the Spanish art in the 20th Century and a world famous Spanish painters.
Salvador Dali was born in Figueres, in the province of Gerona on the 11th May 1904. He was a great painter who many times was recognised more for his eccentricities than for his artistic work. Although he was known more for painting than for other artistic work, Dalí did not shy away from other fields or from collaborating with other artists of the time. His incursions in the world of cinema were famous.
Like many other Spanish intellectuals at the start of the 20th century, Salvador Dalí went to study painting in the San Fernando arts Academy in Madrid, and he lived in the famous student residence. Whilst in the residence he came into with important personalities like Federico García Lorca, Pepín Bello and Luis Buñuel.
During his stay in Paris he came into contact with Dadaists and surrealists. Whilst he was there he met Picasso, who had already heard things about Dalí by from Joan Miró.
At this time Salvador Dali was like a sponge that absorbed all the influences from many types of art from the classic academic formalism to the most cutting-edge avant-garde, and he was even capable of mixing them in the same piece of work. In this period he undertook expositions in Barcelona which aroused many divided opinions regarding his work.
Before the Second World War, Salvador Dalí started to have conflicts with André Breton because of his political inactivism. The majority of surrealist artists had positioned themselves toward the left and against the German Nazi government, but Salvador Dalí thought that art and politics were incompatible.
In 1940, Salvador Dali travelled to the United States escaping the war which at the time was destroying Europe. In the United States he lived together with Gala for 8 years. It was a prolific period for him regarding writing. Also in this period he found his catholic beliefs again.
From 1949 he returned to his native land of Catalonia where he stayed until his death. His catholic beliefs made him stronger and his paintings reflect this fact just like the commotion caused by the Hiroshima bomb. Dali himself named this period mystical-nuclear. The painting called "Crucifixion" belongs to this artistic period.
From 1980 onwards his health rapidly deteriorated. Parkinson´s disease stopped his ability to freely paint. The king of Spain, Juan Carlos 1st names him marques Púbol and Dalí thank him by painting a picture that he gave t him on his death bed.
In 1982, after the death of Gala, Dali moved to the castle he bought for her and voluntarily stopped drinking which worsened his illness and thus his condition. He was back at the centre of attention; because many made accusations that his friends forced him to sign blank canvases that then they sold as original paintings.
The 23rd January 1989, Dali died of heart failure. His whole life was a piece of surrealist art up until his death. Being buried in the casa de Figueras was last part to fulfill the circle of the life of Dalí. Next to the church of San Pere, the casa de Figueras was the place he was baptised and where he took his first holy communion.
Salvador Dali Paintings
His work is extensive and as it has been seen it touched different themes. Amongst his pieces of work there were:
The Great Masturbator (1929)
The persistence of memory (1931)
Soft construction with boiled beans (Premonition of the Civil War) (1936)
Dream Caused by the Flight of a Bee around a Pomegranate a Second Before Awakening (1944)
The Elephants (1948)
The last Supper (1955)
Rhinoceros dressed in lace (1956)