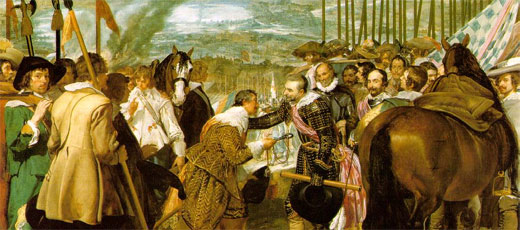 Diego Velazquez paintings & biography. Information about the faomus Spanish artist Velazquez and its paintings such as Las meninas.
The primary duty of a Baroque-era court painter was to produce flattering, yet lifelike, portraits of the reigning monarch and the royal family. Spanish painter Diego Rodríguez de Silva y Velázquez (1599-1660) mastered the art of portraits and is considered to be one of Spain's greatest painter - if not the most influential artist in European history. His most famous masterpiece, Las Meninas (The Maids of Honour), hangs today in Madrid's Museo del Prado.
Velázquez was the eldest child of 7 born to working-class parents in Seville. At the age of 11, he began an art apprenticeship with master painter Francisco Pacheco. At the age of 18, the Seville Painters Guild certified him as a master painter, which allowed him to freely work as a professional. The next few years were spent doing various religious paintings, tavern pieces known as bodegónes and random aristocratic portraits. His works earned him enough money to buy a comfortable house for himself and his wife (Pacheco's daughter) and daughters, as well as a second house to rent out.
He realized from the very beginning that portrait painting would be a key aspect of his work. Velázquez also wished to get rid of his working class status and fulfill a life-long ambition of attaining noble status, thus the best place to achieve both would be to work in the royal courts of Madrid. Thanks to a recommendation by King Felipe's Chief Adviser - the Count Duke of Olivares - and Felipe being pleased with Velázquez' rendition of him when he visited the court seeking work in 1622, a 24-year-old Velázquez became an official court painter. Five years later, he became Usher of the Royal Chambers. His duty was to look after the royal quarters in addition to painting. This rapid ascension secured his position as an important member of the King's court but also earned him jealous criticisms from veteran painters of court.
Between 1656 and 1658, Velázquez painted two works that earned him the name "painter of the painters" among artists of his time: Las Meninas (The Maids of Honour) and Las Hilanderas (The Spinners). Both paintings contain symbolic complexity and play with light. Las Meninas, which includes a self-portrait of the 17th century artist behind his easel, depicts infanta Margarita, the daughter of Felipe IV surrounded by her ladies-in-waiting, her dwarf and her dog. A complex composition of a group portrait, self-portrait, and candid scene paired with the canvas' size and brushwork emphasize Velázquez' skill of recreating reality - a painted "photograph" that leads viewers to ask "who is he really painting, the infanta, the king & queen, or us?" By painting himself in close relation to the royals, he makes a point that he wishes to become a Knight of the Order of Santiago. Velázquez died of a fever in 1660 with a well-established reputation as a master realist whose subjects literally "come to life" on canvas. Tradition states that Velázquez attained his dream of knighthood posthumously: the King himself painted Santiago's cross on Velazquez' chest in Las Meninas as an honor.
His ability to merge color, light and lines has greatly influenced many, especially Picasso and Dalí. Picasso re-created 58 cubist versions of Las Meninas, and Dalí his own version of Margarita. Las Meninas is the most commented painting discussed in art history classes worldwide -and we hope you seek its beauty when you come learn Spanish with don Quijote in Madrid!