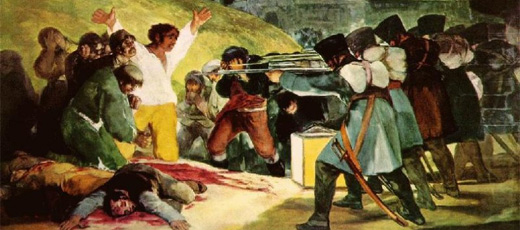 Francisco de Goya. Information about the Spanish painter Goya considered as the pre-cursor of avant-garde pictorials of the 20th century.
Spain seems to be the land of painters and sailors. Or at least that is the conclusion one reaches after learning about its most famous and distinguished characters like Cristóbal Colón (Christopher Columbus), Francisco Pizarro, Hernán Cortés, Juan Sebatián Elcano, Diego Velázquez, Pablo Picasso and Salvador Dalí. Out of many painters that came out of Spain, Francisco de Goya occupies an honorable spot. His importance within the world of painting is unquestionable and his legacy and influence can be seen in many works of art of the 20th century. His work, mainly easel displays and murals, offer brilliant etches and drawings, marking the beginning of the Contemporary painting period. He is considered as the pre-cursor of avant-garde pictorials of the 20th century.
Francisco de Goya y Lucientes was born on March 30th of 1746, in the small village of Fuendetodos, province of Zaragoza. He spent his childhood years in Zaragoza, where his father worked as a master gilder and where Goya's pictorial abilities developed slowly due to the scarcity of references outside of his reduced environment. Religious subject matter dominated his youth, in which several works in this genre already stand out. His work and closeness with the well-standing painter Francisco Bayeu took him to Rome, Venice, Bologna and other Italian cities where he perfected his style and deeply studied the works of geniuses like Rubens and Rafael among others. On his return to Aragón, Goya adopted the Neo-classic aesthetics: he drops the baroque guidelines and begins to vehemently paint religious murals. His earnings increased parallel to his fame and reputation in and out of Aragón.
To reach the royal courts, where the need for renowned painters was in major demand, Francisco de Goya must follow the path of the tapestries. In other words, he must become a "carton" painter whose designed work would afterwards be reproduced on tapestries by the tapestry workshops. From 1775 until 1792, the Real Fábrica de Tapices (Royal Tapestry Workshop) commissioned Goya with several works in which he produced stellar work such as La Gallina Ciega  (1789, The Blind Man's Bluff), El quitasol  (1777, The Parasol), el Chacharrero (1779, The Junkman) and el pelele (1792, The puppet) in the rococo style.
In the 1790's, Goya is a court painter whose principles are different than those established among his contemporaries. His stand regarding a painter's liberty take him closer to what later becomes romantic reasoning:  the freedom of spirit versus the tight ties of neoclassicists. He begins to externalize his own social ideas which will later become more explicit in a series of etchings called Los Caprichos (lit: The Whims) or Los Sueños de la Razón (lit: The Sleep of Reason). These etchings clearly show his sharp, satirical wit criticizing Spanish society. He also becomes ill in 1792 and begins to lose his hearing.
Goya also reflected daily, habitual life in his paintings. Going beyond the typical paintings depicting society, he brilliantly highlighted the horrific massacres events that occurred on the 2nd and 3rd of May of 1808 during Madrid's uprising against the French. Goya reaches the highest level of romanticism when he paints anonymous people as heroes.
During the last years of his life, Francisco de Goya purchased a country villa known as Quinta del Sordo (the Deaf man's Estate) on the shores of the Manzanares River. In this house, Goya painted frescoes on the walls which later on turn out to be the pinnacle paintings of his career. These paintings carry intensely somber, dark and yet modern expressions. Saturno Devorando a sus Hijos (Saturn devouring his son) also known as El Aquelarre, Judith y Holofernes and Perro semihundido (known as "Dog on a leash" in English) are some of the works that elevate Goya to higher ground within the painting world.
His wide artistic legacy was of great influence to the painters that came after him. In Madrid's Museo del Prado, one can enjoy most of his paintings, although not all since some are spread throughout the world. Having his work in Madrid makes for a good excuse to spend a week in the city, learning Spanish with don Quijote Madrid Spanish school and pay homage to one of the greatest painters of all times.