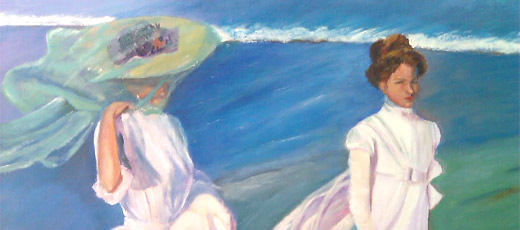 Learn more about one of the most famous spanish painters - Joaquín Sorolla
Impressionist painter, Joaquin Sorolla Bastida was born in Valencia on February 27, 1863. Although he was orphaned two years later and raised by his uncles, he studied painting and worked in the family's locksmith shop. Sorolla overcame his humble beginnings by winning a scholarship to the Spanish Academy in Rome. This is where he understood and developed the ability to paint using light effects. Upon graduation, he began sending his paintings to all the leading salons, including Madrid, Paris, Munich, Chicago, Vienna, Berlin and Venice, continuously winning awards. Requests for portraits began around the time he returned to Madrid and combined with his prize-winning exhibition pieces, he had guaranteed his position as a world-class artist.
In 1888, he marries Clotilde Garcia del Castillo, who soon bears him 2 daughters and a son. Sorolla eventually grew restless of the sobriety of his large studio compositions, so he turned his attention to outdoor location work instead. From 1901 to 1905, he produced the 500 works of his first one-man show in Paris (1906).
His Paris showcase was followed by numerous other important shows that enabled him to experience his greatest success: the Hispanic Society of America commissioned him to paint decorative scenes for its library in New York City. In 1911, he began a monumental set of murals for the society depicting life in the various provinces of Spain. The vast size and scope of the project (some pieces measuring 15x35 feet) forced him to trade his usual sense of compositional verve for a more rigid and stylized approach. These huge paintings, which have been recently restored, represent the artist's vision of the people and customs comprising Spain's rich regional diversity - his own vision of Spain. It took Sorolla seven years, from 1912 to 1919, to complete the series which left him exhausted. He suffered a stroke in 1920, which left him paralyzed on his entire left side and unable to work. He died three years later at the age of 60 in his home.
His collections are now in the Museo Sorolla in Madrid. The museum, a typical Spanish house from the first half of the 20th Century, was named after the painter because it was his home and workshop for the last 11 years of his life. His family turned over his estate to the Spanish State, which decided to convert it into a museum showcasing his many paintings and personal belongings (sculptures, letters, textile, furniture, etc.) which the painter collected throughout his life. Joaquin Sorolla, the master of light, is most famous for his portraits of the Costa Blanca beach landscapes.
These ocean sceneries depict the Mediterranean lifestyle of Valencia from the first decade of the 20th century while also capturing objects in their natural movement and daily activities under an appealing summer color palette. Sorolla's dazzling use of color and ingenius use of light can be seen in paintings such as Después del baño (1902- After the swim), Verano (1904-Summer), Niños tomando el sol (1905 - Children Taking the Sun), Nadadores, Jávea (1905 - Swimmers, Jávea), Niños en la playa (1910-Children at the Beach), and a series of paintings linked with fishing, such as Componiendo la vela (Fixing the Sail) or El almuerzo a bordo (Lunching on Board). Overall, Joaquin Sorolla is Spain's greatest natural painter.